Each and every person on earth is closely attached to their family. Even if we spent a few hours with our family it will truly offer sweet moments for cherishing later in our life. Like every person, even I am very affectionate to my family. I am such a person who hesitates to leave my hometown for job purposes. You call it as homesickness but it is actually commitment or says dedication towards my family. My small family consists of father, mother, me, my wife and two lovely and cute kids. Just like every middle-class family, we used to plan exotic trips to explore the beauty of serene nature. Till now we have explored almost all the places in our hometown. So this time our kids recommended selecting any new place of which they haven't heard or seen in their whole life. Reading this you may be thinking the task may easy for you, but actually is tedious for me. As I mentioned earlier my family consist of old aged parents, it is really difficult to find a fabulous tourist destination that suits their desires and needs. As I was not able to find a suitable solution to it, I seek my friends' help for the same. They suggested the names of many scenic places in our nation. But only one place struck me. It was none other than the southernmost state called Kerala. It is the only place in our nation that suits the needs of both youngsters and adults. As one of my close friends is Malayalee, I asked him to tell the best tourist destination in Kerala. Shenduruny wildlife sanctuary is the name suggested by him. It is one of the few places where tourists are not seen in-crowd and the ambience is mind-blowing. Therefore without wasting a second, I decided to purchase the packages from Gogeo Holidays. They are the leading travel operator that offers the facility to buy the packages online. So I was able to buy their services from my hometown, Chennai.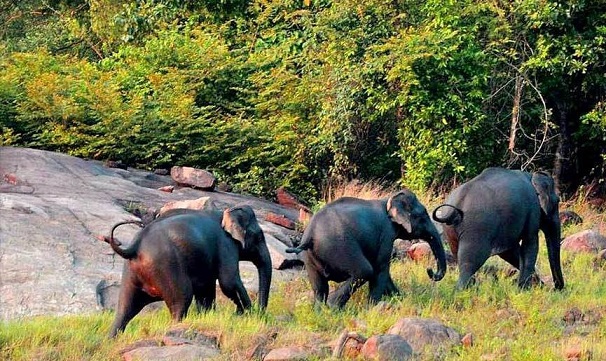 As Shenduruny wildlife sanctuary is situated in Kollam district, we boarded a flight to Trivandrum International Airport. From airport, it nearly took more than a couple of hours to reach the sanctuary. Even though the journey was a little bit lengthy, our cab driver cum tourist guide tried his best to make us engaged. He was very talkative and love to share valuable information. His character was similar to my father's and hence they soon became good friends. On reaching the resort, the staff guided us to our rooms. More than me and my wife it was my parents and kids who were eager to visit the tourist destination. Therefore we kept our luggage in our respective rooms and moved with our tour guide to Shenduruny wildlife sanctuary. The tourist place was something beyond than what we saw on the internet. Its beauty could not be explained in mere words. The sanctuary got the name 'Shenduruny' due to the presence of 'Chenkuruny' or 'Shenkuruny' trees in large numbers. As my wife was graduated with a degree in zoology she suddenly told the botanical name of the tree, Gluta travancorica. With an area of 100.32 sq. km Shenduruny wildlife sanctuary is known to be one of the smallest wildlife sanctuaries in Kerala. Over there we spot many rare and endangered species of fauna and flora in large numbers. Our camera was lucky enough to capture the images of these amazing creatures. We were blessed enough to see the animals and birds approaching the man-made lake formed from the Parappara dam. Some of the fauna which we noticed over there are elephants, leopards, deer, Nilgiri Langurs and the birds such as bison, great eared nightjar and different types of migratory birds. There are chances of getting attacked by the wild animals, hence the authorities have constructed solar and electric fence and also elephant trench proofs to ensure the security and safety of the visitors.
As told earlier our tour guide was very keen to share some informative points regarding the sanctuary. Inside the sanctuary, we came across years old a rock cave. The cave was really a blessing for kids because it carried many engravings dating to Mesolithic period 5210-4420 BC. The rock is still able to accommodate nearly 20 people at a time. As it contains much historical evidence, authorities have imposed time restrictions for visitors to visit it. We enchanted the scintillating beauty of the emerald surroundings by availing of boat rides at cheap prices. While sailing in the boat we saw many adventure enthusiasts practised trekking in the breathtaking mountains inside the sanctuary. As I am fond of enthralling events, soon after the voyage I approached the counter and received their permission and explored the magnificent beauty of the region. On reaching the summit I was lucky enough to enjoy the stupendous panoramic beauty of the nearby surroundings. The wildlife sanctuary not only receives families but also newly married couples every year. To make the romantic trip into a wonderful experience, the authorities have arranged treehouses for the newly married couples. Near to the sanctuary lies an alluring spa that helps the tourist to revitalize their body and soul. After spending a couple of days we returned back to our hometown.
We were truly inspired by the hospitality services provided by Gogeo Holidays. They tried their best to provide the utmost care to our parents and kids. Hence I would highly recommend travellers to purchase their family tour packages if you are decided to visit Kerala.