It is being a long time that my grandma and my parents have been wishing to visit some pilgrim centers. Due to the unavailability of dates and other emergency issues we used to postpone the trip. But this time my grandma urged my parents that it is her lifetime dream to visit spiritual sites. In my whole life, it is the first time I have seen her urging others for her personal desires. Therefore, we decided to fulfill her dream. As it was the month of November and pooja holidays were commencing we decided to visit the most popular Marine Shrine of Kerala at Vallarpadam on those days. Considering my grandma's health issues we planned to travel by train from our hometown Palakkad. As it was seasonal time tickets were unavailable and we were forced to drop the plan. But we really didn't want to disappoint grandma. We were confused about what to do? At that time one of my friends suggested Dreams cabs services. At first, my parents disagreed because traveling in a cab for long hours will cause trouble for grandma. But my friend told that it is not like the past now the cab services have meliorated a lot. He took us to the company's website. He also added that travelers have the option of selecting their desired vehicle from a wide range of choices. To our surprise, he said that Dreams Cabs are ready to customize the rates of tourist taxis. We were pleased with the offer. And we decided to avail of their services.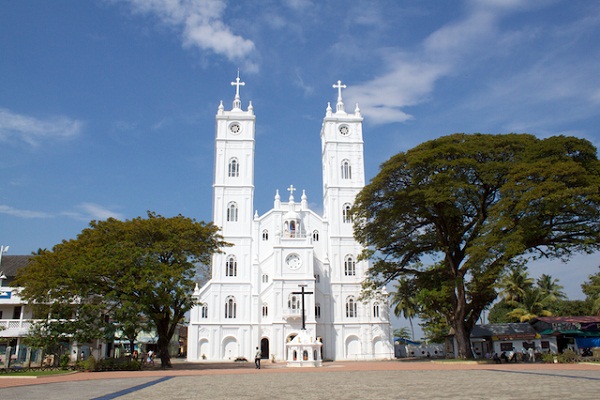 As per our plan we all got ready for the pilgrim trip. Early morning the cab which we selected arrived in front of our house. It is the first time we were seeing a cab reaching on time. The cab was really spacious and clean. As both my mother and grandma were suffering from severe joint pain (they were the first people who hesitate to travel in a cab) ran towards the cab as soon as they saw it. When they saw the cab there remain startled by seeing its interior. The seats of the cab were well maintained. We had already mentioned the concerned representative that an elderly lady is accompanying us. Therefore the cab had carried a special footrest to stretch legs and relax. My father had some breathing problems. We were afraid that my father would find difficult to adjust with the smell of car freshener. But the freshener was really aromatic and it maintained the vibes of the journey. The chauffeur was really loyal and humble. He drove the cab carefully without falling into any potholes because he knew that the cab comprised of senior citizens. As time passed we started filling bored my grandma asked me to switch on the music player on my cellphone. A few days ago I formatted my cell and I lost all those favorite songs which were stored in my phone's internal storage that my granny liked the most. But the driver astonished us. He played all those favorite songs of us from his wide range of music collection by asking our taste. The songs which were not with him were downloaded from the internet via WI-FI of the cab. My father is more interested in news channels and politics than music. He enquired whether the cab had any radio system. The driver nodded to it and played my dad's favorite radio station. After a few hours, the driver halted the cab in front of the restaurant in Thrissur district for having a ravishing breakfast. Granny and parents had 'appam and stew' whereas we had 'puri masala'. After resting for nearly 20 minutes we continued our journey. By noon we reached the Natural Shrine Basilica of our lady of Ransom more commonly known as 'Vallarpadathamma or Vallarpadam church'. During the journey, the driver had shared all the stories related to the shrine which were unaware to us.  Many devotees visit the church with many intentions. It is believed that God will hear the prayers of those pilgrims who visit the church and sweep the premises (a small portion).  We (including grandma) also swept the surroundings. We spent nearly an hour there.
Our plan was to return back to our home after having lunch. But the driver insisted as you are coming here for the first time, enjoy the vibes of the metro city by visiting the prominent places. Listening to him we urged dad to change the plan and he agreed with us. We first went to Marine drive. Over there we saw many people availing boat services to enjoy the beauty of waters. So we also availed the services and sailed in the boat for the first time ever. The voyage was only for 20 minutes but gifted us with a lifelong memory. After having 'kulki sarbat and full jar soda' we moved to Asia's largest shopping mall- Lulu mall. We remained stunned by seeing the stupendous beauty of the magnificent mall. The mall encompassed more than 100 shops with all branded items. We were feeling very hungry so the driver took us to the top floor for having a splendid lunch. As they were a plethora of shops we were confused about what to do? From where to buy?  And what to eat? Etc. My parents and granny ordered traditional foods whereas I chose continental dishes and savored the dishes by seeing small kids indulging in various games opposite to us. Followed to it we entered various shops and purchased a few items. At last, we visited the famous lulu hypermarket. Over there my mother was busy buying many vegetables and other things which she has never seen in her whole life. In the end, we entered the metro train of Kochi. By the evening we turned back to our home.
Spending hours in cab and traveling under hot sun we didn't feel tired. We really enjoyed each and every second. Thanks to the driver for being with us. He was not only a driver but a tourist guide who guided us properly to each and every destination without wasting a single second unnecessarily. There are no words to express my wholehearted gratitude to Dreams Cabs for organizing such wonderful cab services in our Kerala. After having a wonderful experience I have started recommending my friends about their taxi packages. To enjoy hassle-free trip travelers must definitely avail of their awesome packages and charm the amusing beauty of nature.