Kerala has got a great influx of tourists visiting the place for its exquisite romantic beauty. The Southwestern state in India is blessed with many beaches, forests, backwaters, and hill stations making it a dreamland for people all over the world. The fame of this land has become the talk of the travellers for a very long time and so it is considered as "God's Own Country". A huge amount of honeymooners also visit this place for exploration like the travel junkies who are travelling in search of new adventures and experiences. The newly-weds will also be in such a phase when they want to know more about each other and make new memories by holding each others hands tight. A honeymoon journey should be rightly planned to make it an experience with everlasting memories. For this leaving the planning and jotting down the places that are best for a honeymoon could be made easier with the help of travel packages focusing on Kerala and its destinations. For the domestic and foreign travellers, choosing a trip to Kerala with airfare facility is the best option and tourism in Kerala has only flourished with options like these.
So, with the array of places and things in Kerala that needs proper research before landing there, you need to find somebody who can help you throughout the journey with their services. Selecting a travel partner to ease the burden of booking and ruling out a travel plan is what every couple need. For this, travellers can select the tour operators like Dream Holidays who are functioning at the best possible level in Kerala. Honeymooners! Pack your bags and get ready for your first travel expedition with all the love!
For this, you need to know what are the things in store at Kerala if you are choosing a backwater destination for some romantic time. A list of the best backwater destinations in Kerala is out there out of which you can select the places that you wish to select. Alleppey, Kuttanad, Kollam, and Kumarakom are places where you can have the best honeymoon memories at Kerala with your partner.
Alleppey Backwaters: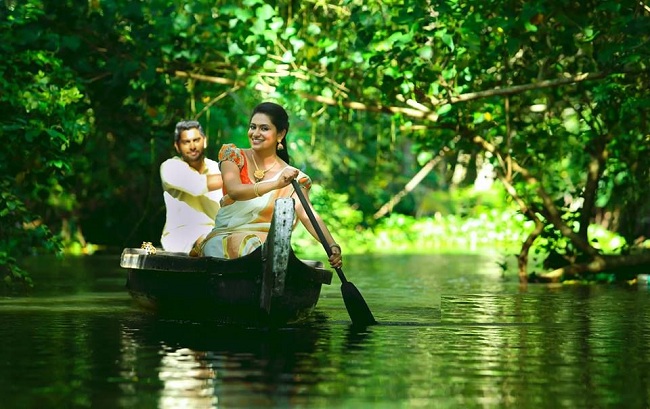 It is a quite popular adoration that Alleppey has got. Alleppey is known as the "Venice of the East" or Kerala's "Venetian Capital" owing to its great collection of canals, lagoons, beaches, and backwaters. The National Geographic Traveler has even given Alleppey Backwaters a place in its "50 destinations of a lifetime" and this itself is a sign holding out to beckon the honeymooners in visiting Kerala. The best time to hit this place is from October to February when the weather will be bearable. The nearest airport to Alleppey is the Cochin International Airport with only about 50 Km to cover. Houseboat cruises have made backwater tourism in Alleppey even more alluring for the couples as they can spend their honeymoon in a private houseboat with all the needed modern amenities. Always pre-book your houseboat for a hassle-free experience. Almost all of the honeymoon packages will definitely list Kerala for a visit. The Nehru Trophy boat race, Alleppey beach, village walks at Kuttanad, etc can be best enjoyed by the couples. Toddy and seafood with other special dishes are to be tried while taking a walk through its banks.
Kumarakom Backwaters: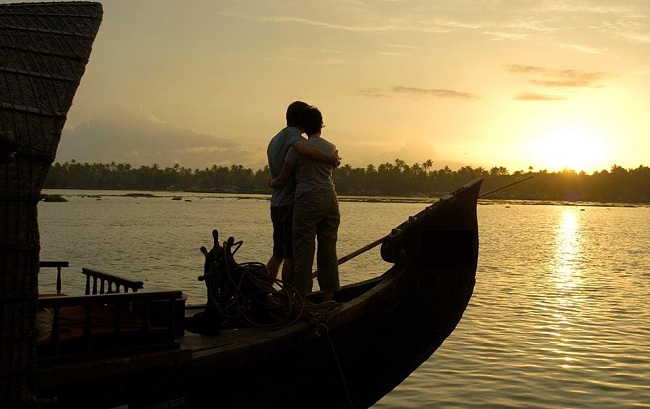 Backwater tourism in Kumarakom is famous for the Vembanad Lake, the largest lake of Kerala that has quite crafted this spot as a major tourist location. Located at Kottayam district at a distance of 16 Km from the town. A visit to this backwater honeymoon destination in winter from the months November to February is the apt time to make the most of this visit. Kumarakom Bird Sanctuary, Kumarakom Beach, Pthiramanal Island, etc are other places that can be added to in the travel package aiming Kumarakom backwaters. Indulging in birdwatching by sitting in the houseboat gliding through the waters of the lakes will give you indelible memories. The nearest place to land in and take a flight is at Kochi at a distance of 45 Km. The Trivandrum International Airport is also there, but at a distance of 133 Km away. By train, it is better to get off at Kottayam and take a bus, taxi or get into the cab that your travel provider would have provided to pick you up. The Kumarakom karimeen fry is something that should be tried by the couples if they want to know the ultimate taste of seafood.
Kollam Backwaters:
History says that Kollam was a major spice trading location in Kerala. It is the Ashtamudi Lake that functions as the backbone of backwater tourism in Kollam in the present. The entrance of the backwaters in Kerala is at this lake. What more do you need? Get into the houseboat at this location where the waters are the best and soothing with its unsullied beauty. If your honeymoon is at any time from October to February, make sure that you take your bags and visit all around Ashtamudi Lake. The spice plantations and cashew industries are the attractions of this place just like Alleppey are into coir making. Taking a backwater voyage from Kollam to Alleppey will give you an idea of how beautiful Kerala is. Munroe Island, Alumakadavu, Palaruvi Waterfalls, Thenmala Ecotourism Centre, etc are other places that enhance tourism in Kollam. Kollam is well connected with other cities in Kerala and India by road and train. To travel by flight during your honeymoon to Kollam backwaters, the airport to land is the Trivandrum International Airport at a distance of about 85 Km.
There are backwater locations in Kerala at places like Kochi and Kasargod which are the places that can be added to your honeymoon package if you love the backwater destinations in Kerala too much! Always make sure that your travel partner is booking the best resorts, houseboats or hotels for your stay. Take note of the offers too as couples usually are treated with discounts by the travel operators.