Andaman and Nicobar Islands has gained a lot of popularity recently. White sandy beaches in contrast to the turquoise blue water just seduce people from all over the world. In fact, the Islands are not just about lush green coconut trees like many other tropical Islands. It has got a rich flora and fauna  too and as a result bird sanctuaries and national parks are also present in this beautiful group of Islands. The Cellular jail of Port Blair which takes the shape of a cycle spoke occupies an inevitable part in Indian history.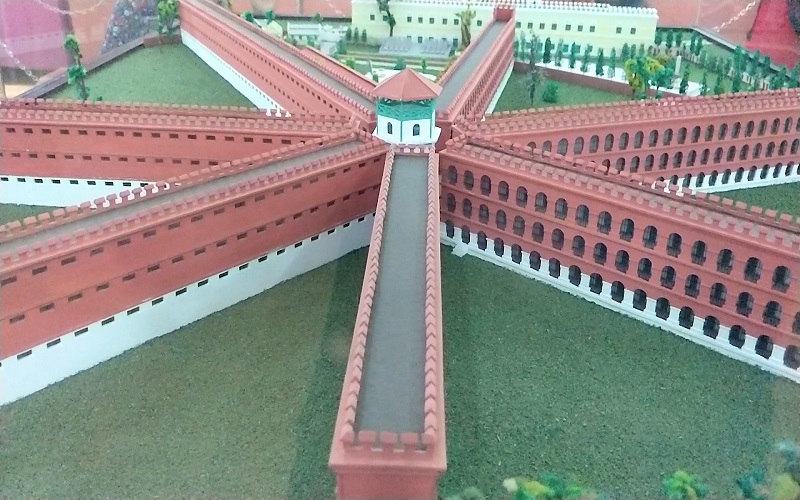 Actually, it was the place where the freedom fighters were tortured endlessly by the British and hence it is a standing testimony of India's freedom struggle. If Port Blair is the historical city, it is the havelock Island that is famous for leisure activities in Andaman. The Radhnagar beach, Elephant beach and Neil beach of the Havelock are widely popular among tourists and hence its all got a touristy feel too with locals selling souvenirs, adventure sports etc. However, if you are the kind of person who is interested in exploring not-so-popular  islands of Andaman, this blog is for you because I'm going to discuss in detail about the unfamiliar gems of Andaman where you can have a quiet time and also about one certain untouched Island of Andaman where you should  make it a point not to go. This would be especially useful while creating honeymoon tour packages as honeymooners always look forward to have some romantic time in privacy. In fact, being close to Chennai, most of the Andaman honeymoon packages start from Chennai.
Now coming to the point, the Little Andaman Island is an Island that is not so popular amid tourists but no less in beauty and sereness. It is actually home to the Onge tribe. Also, an interesting factor regarding Little Andaman is that most of the travel attractions here don't need an entry fee. Butler bay beach is the best beach here and is great for swimming and surfing. In addition, there are some awe-inspiring waterfalls within the Island such as white surf waterfalls and whisper wave waterfalls. White surf waterfalls are so unique because once the mist within the air comes connected with sun-rays and rainbows are usually shaped and you can click as many photographs you need of the amazing vista of rainbow running through a waterfall and treasure it forever in your life.
Whisper wave waterfalls are as beautiful as White Surf waterfalls. However they are susceptible to crocodile attacks. Therefore, do watch out for the crocodile warning sign boards always. Red palm oil plantation is one distinctive spot the tourists are vastly interested in. It doesn't need an entry fee and you'll see and perceive the varied processes happening there.  You'll even take it slow to move with the workers here to get a clearer understanding regarding the entire processes happening or maybe even clarify your doubts. But however, no camping is  allowed here. Food courts are out there in hut bay but they provide solely basic things. So it would be better to bring whatever is needful and do some self-cooking. You'll reach the Little Andaman Island either through the ocean or via air. There are government-issued ferries from Port  Blair to hut bay that takes around six to eight hours but the time taken is totally dependent on degree of roughness of sea. Helicopter rides are the alternate possibility which reaches within one hour but the pitfall is the availability of limited seats and restriction on the amount of luggage you can take with you.
The Baratang Island homes some superb rock formations that happened billions of years ago. The limestone caves comprise of stalactites and stalagmites. Dense mangrove forests are also a treat to the eyes for tourists visiting here and it should never be excluded from your Andaman and Nicobar tour packages. In fact, reaching Baratang Island was a nightmare for tourists once as Jarawa tribes used to attack, mercilessly, anyone arriving there. The government has now succeeded to attain peace with them and the Jarawa tribe reserve in the Bharatang Island today serves as a reserve for the tribe members.
Cinque Island is yet another unpopular but beautiful Island of the Andaman which lies between the passage and the Duncan Island and is split into north and south Clinique Islands. It's as so much as over twenty km from the Port  Blair city towards the north. The Island isn't popular however, it offers lots of adventurous activities for tourists like snorkelling, sea walking, diving etc. It is also blessed with a treasure of amazing coral formations in different shapes and sizes. Camping on this Island is allowed and you can sleep beneath the twinkling stars while listening to the waves softly hitting the beach. Regular ferry services are available from the Chidiya Tapu to reach Cinque Island.
Intrestingly, the sentinel Island is one of the most secluded Island in the Andaman with a history dating back to 60,000 years but you should never make a point to go there. It is because the Sentinelese tribe inhabiting the Island has always rejected any form of human contacts. They don't have any touch with the modern world and their way of life has always remained a mystery. According to the Andaman and Nicobar Islands Protection of Aboriginal Tribes Act of 1956, any attempt to go nearer than five nautical miles is restricted. This is major to protect the tribe members from any harmful diseases to which they have no immunity. Peace is also one priority as the Sentinelese tribe has always reacted violently when people tried to approach them. They used to kill them with arrows and other weapons made by themselves.

Usually, the Andaman tour packages will not include these non-touristy places, so if you are interested to make your package unique you need to approach a tour operator who permits customization of your tour package. One of the best tour agency who does it is the Andaman Tour Travel. They have an efficient and well-experienced team that works together to make your dream into a reality. You can talk to their executive and customize your trip according to your interests and budget. They also have some of the best deals and offers in the industry.