Bit by the travel bug? Are you still sitting in your rooms all confined? Get away from the monotonous life for a few days. August is about to bid goodbye and let it go. You have a fresh September awaiting you. Take yourselves out in September and explore inwards and the exterior world too. For September, Kerala has got many in its list for you if you want something different. Stop waiting and plan for that holiday trip to bathe in the love and culture of Kerala. Know more about the things you can do in Kerala in September apart from visiting the tourist attractions. There are splashing waterfalls, verdant forests, infinite plantations and many more that keep on alluring travelers to Kerala. Cultures and colors are in stock for you at Kerala, and so start planning by gathering all the relevant details about Kerala.
Know why what makes September the best month for a change from the usual:
With the climate that is moderate, it will not come to bother your trip.

With the monsoon setting for its withdrawal, normal weather which brings a fresh aura to its visitors is the positive point of a September trip.

Mild drizzles may occur.

The set-off dust, nature at its green and the lesser crowds are the crowd-pullers.

Foremost tourist attractions will be at its best with the average temperature being 27° Celcius.

At evenings, with 24° Celcius temperature, it is perfect for long walks at the beaches until nights with a cooler climate.

The month has got many festivals and events to its list and is a perfect time to know Kerala and its cultures.
To know the cultures of Kerala, visiting during September month in 2019 means you get to know what Onam is and how the festival is carried out in Kerala. Onam is celebrated by people in Kerala and is not bound by religions in most places. The entire state of Kerala will be set in motion at this time and the streets will be full of flower vendors and people figuring out what to buy at this festive season.
According to the Malayalam Calendar or Kollavarsham, Onam is celebrated when the month of Chingam arrives at Kerala. In 2019, Onam falls on September 11, which usually is around the last week of August to the first weeks of September. The legend behind Onam is something that needs to be set as an introduction to the domestic and overseas travelers traveling to Kerala for a tour in September.
Onam – A Welcome to the King of Kings, Mahabali
Just in case you don't know what Onam is about – the story revolves around the reign of Mahabali, an asura who ruled Kerala long ago. No discrimination between his pupils was rampant at that time and everybody lived with peace and satisfaction.
"Maveli naadu vaanidum kaalam / Maanusharellarumonnu pole"
This folk song said to be written by the legendary social worker Sahodaran Ayyappan rightly explains how people lived during the times of Mahabali.
The legend goes as such: one day, Lord Vishnu came to Mahabali dressed as a poor brahmin asking Mahabali for some land that lengths to three footsteps he will be taking on this land. Some gods were jealous of the name and fame an asura king like Mahabali was gaining among his people. Mahabali, who was an ardent worshipper of Lord Vishnu was being put to test here.  With his first steps, the brahmin boy had set foot on a total of Earth and sky, and Mahabali stepped forward when the boy had no place to set his third foot on and he was forced down to the Pathala, where other demons were set to at the underworld. Mahabali asked for just one boon: he wanted to visit his people once during every year and the welcoming of Mahabali or Maveli or Onathappan is what Onam is about.
The Myth of Onam at Thrikkakara Temple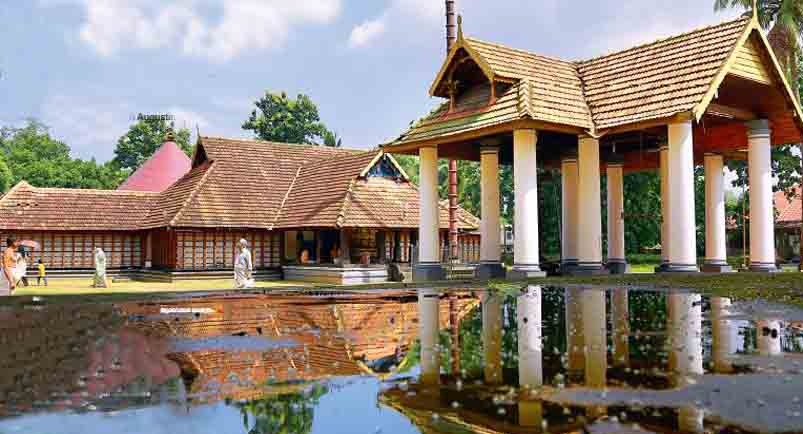 One of the must-visit places for those are lured by the story of Mahabali and Vaman is the Thrikkakara Temple located at the Vidya Nagar Colony at Thrikkakara, Ernakulam. Also known as Vamanmoorthy Temple, this temple which is about two thousand years old is dedicated to the Vamana-Mahabali legend. The idol here is carved according to the scene when Vamana sent Mahabali to the netherworld. Known as the capital during Mahabali's reign, it is said that this scene happened at Thrikkakara. A clay structure made like a small pyramid is worshipped during Onam and these are also kept on the floral designs that every home in Kerala prepares, which is known as Thrikkakara-appan.
The Pakalpooram and Sheeveli rituals held on the ninth day of Onam are the major attractions and the idol of Vamana is taken on an elephant and procession happens with Panchavadyam.
Onam starts from Atham and ends with Thiruvonam, according to the Malayalam Calendar. Atham marks the birth of Vamana and Thiruvonam is when Mahabali visits Kerala.
From Cochin International Airport, Thrikkakara Temple is 21 Kilometers away.

From Kakkanad bus stand, Thrikkakara Temple is 3 Kilometers away.

From Kalamassery Railway Station, Thrikkakara Temple is 3 Kilometers away.

The temple is open from 4 am to 11 am and 4 pm to 8 pm.

Onam celebration commences here on September 10 in 2019, a day before Thiruvonam.
Onapookalam: The Floral Carpets Welcoming Mahabali
The time when kinship and secularism talk its story can be traced with the millions of people at Kerala setting the flower carpets at their homes. Clad in new clothes is how people from Kerala, ranging from kids to elders celebrates this day. The travelers visiting Kerala can get the Kasavu Settu Mundu or dhoti for men and Kasavu saree for women. The travelers can also arrange spots for setting Athapookalam at their accommodation sites by including it in their travel packages during Onam season. From the traditional dresses to the local flowers, the Onam festival is a festival of colors. The size of the Pookalam grows as days pass starting from Atham to Thiruvonam. On the day of Atham, the Pookalams are set as a part of the belief that Mahabali is starting the preparations to leave for Kerala from Pathala. This traditional way of celebrating Onam is still continued with all reverence in Kerala.
Onasadhya: The Banquet Calling Out to the Bellies
Have the best food in Kerala. This traditional feast or Sadhya will be served in a banana leaf with rice and 24 to 28 side dishes. The list of side dishes goes from sambar, pulisseri, avial, kaalan, thoran, pachadi, kichadi, pulinji, buttermilk, pappadam and so on. Along with these, you can have the best desserts during your trip to Kerala. Known as payasam, you can have paripu pradhaman, paal ada, ada pradhaman and so on. During Uthradam, a day before Thiruvonam people go for shopping and keeps the vegetables ready for the Sadhya. Every home at Kerala provides Sadhya as it is said that Mahabali visits Kerala to check whether all of its people are having their bellies filled. The restaurants in Kerala provides lip-smacking Sadhya at this time with the long list of dishes.
Pulikali: The Drum Beats and Tigers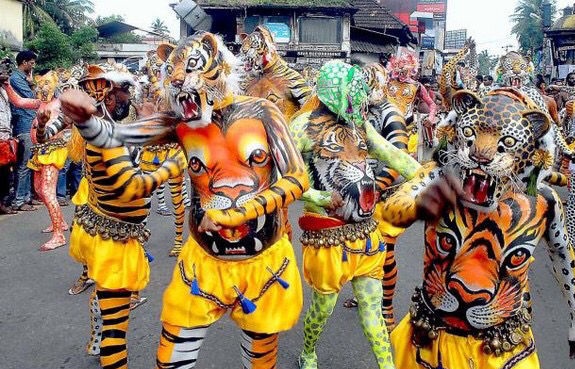 Go straight to Swaraj Round at the Marar Road Area in Thekkinkadu Maidan at Thrissur as it is here the best Pulikalis can be witnessed. With the percussions like Udukku and Thakil playing in the background, men dances or mimics the music. The people who have painted their bodies with paint as leopards or tigers with matching masks and their dance is one of the best things to add to a travel package to Kerala. If you find it inaccessible you can get the help of travel partners in Kerala like Gogeo Holidays. On the fourth day of Onam, many people painted in different designs set out to the streets. The most grant Pulikalis are performed at Thrissur. The Pulikali artists adorn their body with oil colors like yellow, black, and red stripes during their performance. The role of the tigers getting hunted is the story behind this performance. Get to see this entertaining visual dance done by hundreds to thousands of people in Kerala on your visit during September. People from about 15 localities at Thrissur gather at Swaraj Round by dancing all through their way for a Pulikali competition. At Nadivilal, the judges will decide whose performance is the best and they will be awarded a cash prize. The entry to this entertaining arena is null. Enter at no cost and leave with colorful Onam memories of two-legged leopards.
From Cochin International Airport, the Swaraj Ground in Thrissur is 58 Kilometers away.

From Thrissur town, the Swaraj Round is 900 Metres away.

From Thrissur Railway Station, The Swaraj Round is 2.1 Kilometers away.

The Pulikali performance will start from 4 pm to 8 pm on September 14.
Aranmula Snake Boat Race: The Water Splendour
Get to see the best rowing boat performance in Chundan Vallams at Kerala by availing the tour packages at the Aranmula Parthasarathy Temple at Pathanamthitta. Add Trivandrum to your itinerary and book before a month to get the packages at cheap rates. Held during the Onam festival in Kerala, the Aranmula snake boat race is a sight that is not to be missed. The rowers will be dressed traditionally in white dhotis and turbans and the boat will proceed with a group of singers reciting the traditional Vanchipattu too. The statue of Krishna will be taken for a procession too as the temple is dedicated to Lord Krishna and Lord Vishnu. The procession will be filled with children dressed like little princes and princesses. This is the oldest boat race that is being presented at Kerala. Along with the rowing and singing of the participators, the crowd to join in with them by cheering and clapping with the rhythm. The Pampa river is thronged by tourists and visitors during this time in Kerala. The boats are decorated with a flag and a golden lace at its front area, and at the center, there will be a colorful and traditional big umbrella. The legend behind this Kettu Vallam race says that a devotee who was on his way to offer his offerings to Lord Krishna was robbed off on the way. The god himself appeared on seeing the devotee's distress and told him to make a bigger boat with many men to row away fastly.
From Trivandrum International Airport to Parthasarthy Temple, the distance is 116 Kilometers.

From Pathanamthitta Town, Parthasarathy Temple is 15 Kilometers away.

From Chengannur Railway Station, Parthasarathy Temple is 11 Kilometers away.

The ticket costs from 3000 Rs to 2000 Rs for the Tourist Gold and Tourist Silver tickets respectively and will be held on 15 September 2019.
Keep these in mind if you are choosing for a trip to Kerala during September. Also, take a visit to the tourist attractions nearby to the locations mentioned. Never miss the Sadhya, especially during the days of Onam.