It was in the month of January our marriage was fixed. Parents of both families scheduled the wedding for the month of June. It was because of the unavailability of leaves that bought delay in our marriage. On the marriage fixing day, the evening itself we started chatting with each other. Initial few days the calls lasted only for 30 minutes maximum. As days passed the duration of calls continued for up to 2 to 3 hours. During our personal chats, we discussed several things such as how our marriage would be, about our attire, ornaments, and rituals. How could we end our conversation without mentioning our honeymoon destinations? Many places aroused in our minds like Kulu – Manali, and Shimla. These places are truly located closer to our hometown – Delhi. As we both suffer from breathing problems we decided to drop the places. We really wanted to visit places that are abundantly blessed with natural resources, virgin beauty, and spectacular charm and many more. Many places came into our minds but nothing suited our demands. Later one of my hubby's friends suggested Kerala. At first, we thought being a south Indian state Kerala will not be modernized and may lack many latest amenities. But he showed many stunning photographs of the lovely tourist destinations in Kerala. By seeing the beauty of the state through the photographs we were lured. We still remained in the confusion to select which place. It was my dream to sail in waters and my husband's wish was to do trekking. Understanding our desires our friend told about the Alleppey and Munnar tour packages. Alleppey is known for its backwaters and beaches whereas Munnar is famous for its plantations and breathtaking hill stations. He also recommended Dream holidays, the leading travel operators in Kerala. They curate special packages for newlywed couples to celebrate their honeymoon at the affordable rates. Travellers who purchased their packages showed sincere gratitude and expressed their excitement of getting excellent services from the cheapest packages.
As decided in the month of June we tied the knot. Followed to the wedding we were compelled to attend a few family functions and post-wedding rituals. Things moved according to our plan. After one and a half months, we boarded the flight from the Indira Gandhi International Airport to Cochin International Airport in Kerala. I forgot to mention one thing the Dream Holidays included all the up and down airfare in their honeymoon package. When inquired about the rate of the package including the flight tickets with other travel agencies the amount was beyond our expectation. This was also one of the reasons why we selected them (Dream Holidays). When we reached the airport in Kerala, the tour coordinators welcomed us with a bouquet of red roses.  They guided us to a private cab. The vehicle took us to the rice bowl of Kerala – Alleppey. The district is also known as Venice of East. Famously, known for the production of coir products. They first accompanied us to the sun-kissed beaches. Before visiting the beach we had a thought that we would be able to see many Malayalee faces. But to our surprise, the beach comprised of foreigners than Indians. Their aim was not only to enjoy the amazing beauty but to be part of revitalizing centers. We shared our emotions and thoughts while strolling on the smooth sandy beaches barefooted. Like small children we were excited in making sandcastles. I build our dream house in the sand and my husband appreciated me for the work by gifting me fried groundnuts and ice cream candies. We left the beach after watching the sun falling into the sea.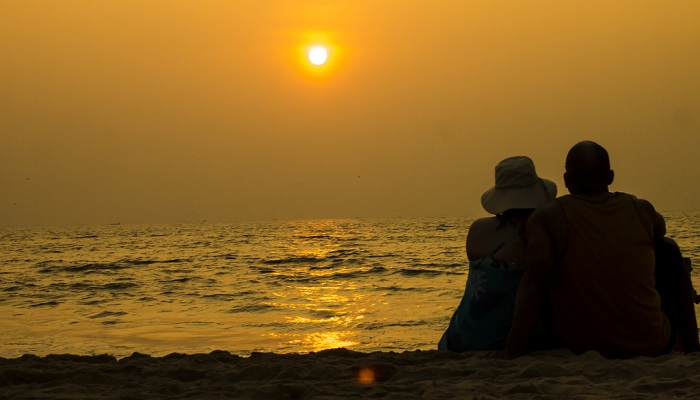 Followed to it tour representatives took us to the luxury cruise of Kerala, commonly known as houseboats. During our short travel to the houseboat, our tour guide shared some valuable information related to houseboats, their prominence in ancient trading systems, how they were formed and so on. It was on our special request the travel partner arranged the houseboat cruise for night. From the beginning of the journey, the team was giving surprises one after another. Here also they didn't forget to thrill us. The moment we came closer to the houseboat they tied our eyes with a white cloth tightly and asked us to rotate twice in clockwise and anti-clockwise directions it is to check whether we were able to see anything. Then they guided us till the rooftop and removed the cloth. With blinking eyes, I was able to see something glowing in yellow colour on a table. I rubbed my eyes twice only for identifying what is there on the table. The moment I saw it I screamed and said 'candlelight dinner'. And I hugged my husband. We savoured traditional and scrumptious seafood. Followed to it we were asked to proceed to our room. Over there the room was decorated with aromatic red rose petals. We enjoyed the night by hearing the sound of water when the boat was moving.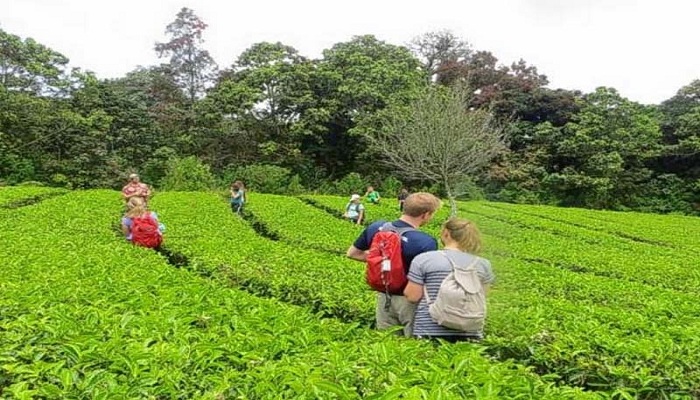 We woke up early the next morning only to catch the first rays of the rising sun. After relishing a lovely breakfast we moved to the popular hill station of Kerala, Munnar. The journey from Alleppey to Munnar was really thrilling. We enjoyed the travel consisting of hairpins by inhaling the aromatic scent of tea leaves flourished in the hilly regions. It is really beautiful to see the tea plants arranged in a similar pattern. We asked our driver to stop the vehicle so that we could capture lovely pictures with tea leaves as a background. On reaching Munnar we did boating in the dam and called out our names at echo. We also explored the Nilgiri hills by viewing Strobilanthes flower or NeelaKurunji flowers (in the Malayalam language). We practised trekking too. We spend one whole day at Munnar. And returned back to the airport by purchasing homemade sweets, antiques and also carried lots of lovely and romantic memories in our hearts. The tour representatives departed us at Cochin International Airport. We handshake them for their outstanding hospitality and splendid services.
On reaching back to Delhi, we uploaded our romantic photographs on social media. Seeing the pictures many of our friends enquired about the trip. We with tons of happiness recommended Dream Holidays' name to them. Only through them, we came to know that Kerala is not only 'God's own Country' but also a perfect 'Garden of Eden'.