The spectacular travel destination of Thekkady can never be unknown to anyone who had heard about Kerala and its locations. Situated very blessedly on the foot of the majestic Western Ghats, the hill station is home to diverse flora and fauna besides comprising of various ravishing tourist spots. Hence when you are vacationing in the God's Own Country, you will understandably be visiting Munnar. In such an instance, a scenic 100km drive to the south-eastern side will take you to the stunning hill station of Thekkady. So here lies the top reason why Thekkady must be included in the bucket-list places to visit in your holidaying in Kerala.
The national park at this part of the state, which is sharing its border with Tamil Nadu, is indeed a bounty of countless flora and fauna. That would range from Bengal Tigers to Nilgiri Wood pigeon. At the park, you may go for safaris, indulge in Bamboo rafting or set up jungle camp or even patrolling in the dense forests. The lake situated in the midst of the national park, which was formed after the building of the majestic Mullaperiyar Dam is also very soothing. Besides, the park is actually situated in the range of an expansive Cardamom Hill with most parts of them being untouched by human encroachments.
Kerala Ayurveda Museum in Angadipetty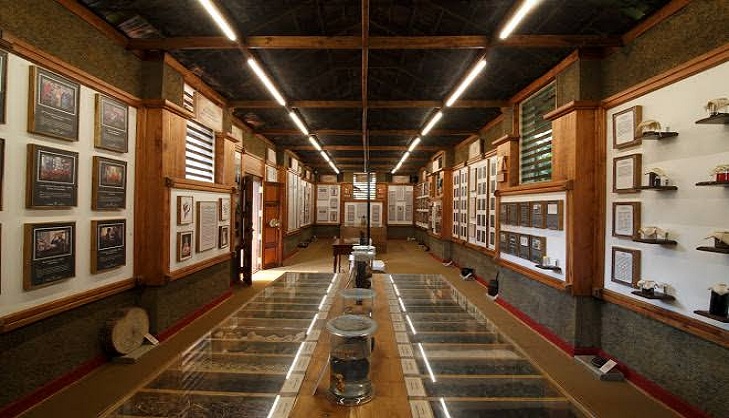 This could be one of the best examples of the concept of Responsible Tourism, as it maintains a record of how Kerala and its people have been accustomed to the way of curing and living closest to nature. Situated in Angadipetty in Thekkady, tourists do visit the museum to analyse and study the crucial role of Ayurveda in the healthcare traditions of Kerala. Furthermore, the museum is controlled by an initiative of the central government, called the Trade Marks Registry. You will be showcased with various species of medicinal plants in real and also in attention-grabbing interactive sessions on the sub-topics of Panchakarmas, Ashtanga Ayurveda, Holistic Medicine, Ayurvedic Dosage Forms and many more.
If you are an animal lover, Elephant Junction in Kumily is the place that should never be missed from the bucket list places to visit. The state animal of   Kerala, the elephants can be experienced in its very raw form, quite different from what you usually get to see in any temple processions or festivals with all those ceremonial headgears. Here you may watch them for hours, feed them or even get showered by them. If you are so much particular on riding them that wish too can be fulfilled by paying half the amount that you had spent for your airfare to reach this place. A few tour companies do include these activities in their packages itself. Like, say if you are wishing to have anything out of box activities during your trip, let it be your honeymoon, try this out for a whole new experience.
Spice Garden and Spice Route Ayurvedic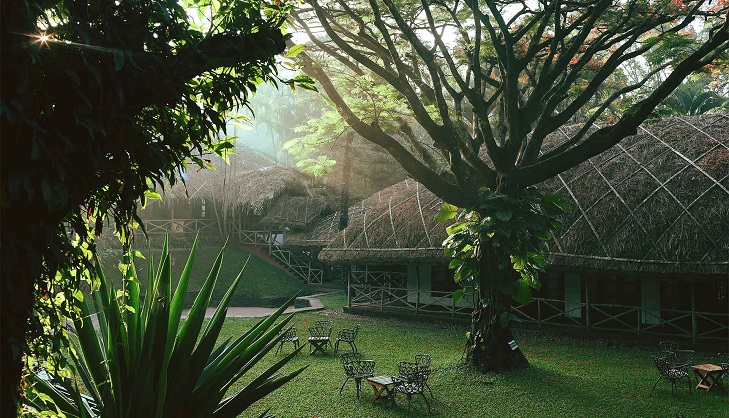 As the state of Kerala is very perfectly called as 'the Spice Garden of India,' you would feel that they are deservingly titled so once visiting the Spice Route Ayurvedic in Kumily. They are traced very adjacent to Thekkady in Amaravathy village. Both medicinal plant and spices are grown in large numbers in this vast expanse of bountiful area. You may meet the experts and farmers and later clarify your doubts and other queries. Moreover, you may purchase the best quality crops of the rare spices of cardamom, black pepper, cinnamon, clove and vanilla that are grown in the favourable climatic conditions existing in Thekkady and nearby areas.
You may get to behold at the real beauty of Thekkady, once you are going for a boat ride in their enchanting water bodies. Freely standing trunks of old trees all across the riverside is the striking factor or more as a landmark of this peaceful destination. On your demand, this fascinating boating experience could be extended up to the catchment area of the gigantic Mullaperiyar Dam. Moreover, when boating across the artificial lake formed after the construction of the dam nearby, you may witness the natural habitant places of the animals of the national park very closely. Quite surprisingly, such an experience could be only of its kind which can be availed from anywhere in the country. On the eventful cruise, if you are willing to remain quiet by not disturbing the very existence of animals you could find that the friendly lots among they will be approaching to your boat.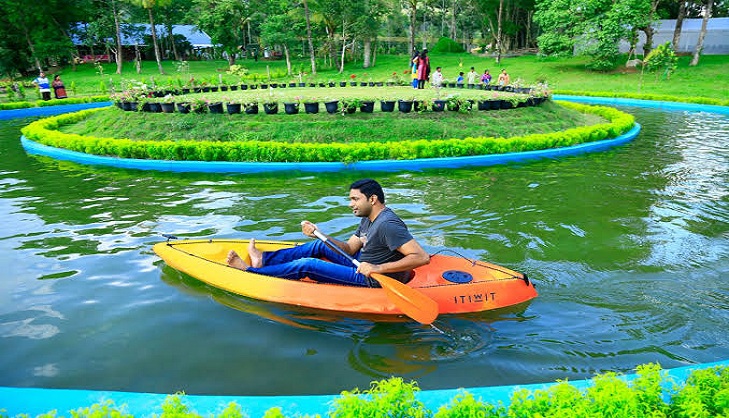 Who doesn't love flowers and that too a rose? When visiting the Rose park of Kumily in Thekkady, all you could find would be the refreshing bunch of sweet flowers arranged in most artistic patterns and designs. Without any second thoughts, you may even opt for this place for your photo-shoots in the honeymoon rather than searching for any other locations in Kerala. Apart from that, you may try your hand in the recreational activities made available to the tourists visiting Thekkady, such as Kayaking, Zip-lining, Bungee jumping or even archery. Although the amount won't be the cheapest one to pay for enjoying all these activities, they can be labelled as affordable. As with a single ticket of around 500 Rupees, you will be permitted to indulge in a maximum of 8 activities. Moreover, some tour companies do allot their adventurous activities here in Rose Park if they are including in their packages.
You don't have to get worried about travelling to each of these locations if you are running short of time or even budget. Dream Holidays has got the best solutions for you to wander in the locations you had dreamt of. A diverse variety of tour packages are made available to you, with the travel destinations including various other places like that of Allepey, Munnar, Kochi, Wayanad, Varkala and Athirapally. Besides that, the tour packages are specially crafted for fulfilling the travel demands of each group, whether it is for a group, honeymooners, family, and friends or even for travelling alone at more affordable prices.