Beaches, beaches, beaches, this was all we could see and it was the one that we wanted for. I being an introvert person get distressed when I am exposed to heavy rushes and noise of busy city life. I don't know how I had survived in the metropolitan life of Chennai for the last three weeks. I would never have come to this place unless my husband was working here in the Zoho Corporations. Since I had left Coonor, which is my hometown, after our marriage, I never had written anything for my blog. I was frightened of losing the very essence of the venture of my freelance writing. So I was obviously lightened up when my husband asked me to decide the travel destination we were to head for our honeymoon. Moreover, I felt that it was already too late.
So once after a thorough discussion with my husband and his ever encouraging and adventure-loving dad, all of us finally came up with the decision of booking our most appropriate one from the pool of other tour packages.  As mentioned before, we picked the one that covers the maximum number of beaches, which is the most popular characteristic of Andaman Islands. Moreover, I had heard that the islets do comprise a few significant historic monuments that are preserved with great concern. And gradually, the destined day for our tour to the exotic archipelago was approaching. We set out for our honeymoon on a breezy Sunday early morning from our flats in Chennai, as we were to catch a morning flight from the Airport here.
With a flying time of 2 and a half hours, we were at the Veer Savarkar International Airport of Port Blair on a sunny morning. The tour executive was already present there. Along with him, we got into the cab sent by them to take us to the place of accommodation. It was an adorable place for accommodation not much far from the airport. Since both of us had a thorough study of the prominent tourist spots we were to visit, we got a bit puzzled when the hotel allotted to us was located in Port Blair. There is almost a 2 hours journey to Neil Island, which is our targeted travel location.  Anyways, we were hopeful that, our travel firm will have well-organized itineraries that would make our honeymoon special.
All those things apart, the seafood made available in the restaurants anywhere in the islet is sheer scrumptious. We did not opt for the typical fish curries, but the varied varieties of crab and squid recipes. Even though I am a foodie, the distinct flavours of the served dishes were those which I had never tasted before. Once satisfying our tummies, we took some rest in our rooms. As tour executive had informed us that the ferry to Neil island was only available the next day morning, we had nothing much to do today. Then it was my husband's sole idea to view the sunset from any of the scenic beaches in Port Blair itself. When he contacted our travel firm over the phone, they quickly did send us the same cab.  Within a road journey sparing 1 hour, were reached Wandoor beach a few minutes before the sunset. Skies were in varied hues and seemed like playing hide and seek with us. After that, we came back to our resort.On the very next day, we packed our bags and got ready to shift to Neil Island. The cab drove us to the boat jetty of Port Blair. We boarded a high-speed ferry that resembled a catamaran. We did not feel any kind of discomfort all through the journey, as the facilities equipped in them were of international standards. Both I and my hubby opined that the turquoise blue waters were one of the most serene that we had ever seen in our lives. Distant islands can be seen at different intervals of time. So those 2 hours of sailing across the ocean waters just flew by. On reaching the island, we first checked-in a beach facing resort.
In that same evening, we had an evening stroll to the Beach with the famous Howrah Bridge. The naturally formed structure centuries ago is indeed a natural wonder. We clicked many pictures with them in the background. I was wondering how those adorable green bushes were growing in the slanting rocks. Moreover, when it was approaching sunset, the entire atmosphere got altered. Consequently, some sort of romantic thought was coming to our delightful minds. The beach was almost empty then, so we just had our special moments in the calmest ambience we were having since our trip. We had another set of surprises when we returned to our resort. They had set us a candlelight dinner! This was an absolute surprise for us. They knew that we were honeymooning in the Andaman Islands, nevertheless, we did not demand such a thing even in our packages. Out of my curiosity, I asked them who had planned this. They replied that it was our tour company.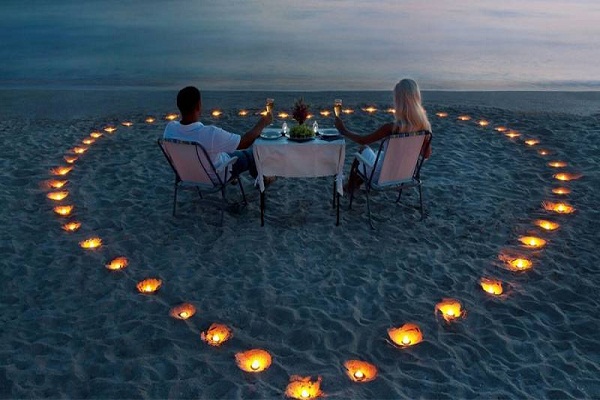 Anyways, it was so sweet of them to arrange something like that solely for us. The very next morning was also eventful, as we were to indulge in snorkelling together in the Bharatpur Beach of Neil Island. We got to witness the marvels of the underwater world with all those colourful corals, sea plants and small fishes as it was in absolutely clean shallow waters. Together we had great fun in such exploration. After relaxing for some time, we hurriedly visited the stone-clad seashore of Sitapur beach. I felt that it was an altogether peculiar coastline. Because of the same reason, we could not swim in the sea waters. There was only a walkable distance to Ram Nagar Beach, which was yet another thought-provoking beachside of the Andaman Islands with its crystal clear waters, golden sand and black boulder. Our next major target that is Laxmanpur beach was situated just the opposite side of the island. So once hiring a cab, we again rushed to it and watch the most beautiful sunset we had ever seen in our lives.
Our lively, yet hassle-free honeymooning in one of the remotest islands was merely awesome. We would appreciate the efforts taken by of Andaman Tour Travel, which was the travel firm which we had relied on for making them so.