It is not always the Jack who gets dull for working continuously without playing, but also this does apply to every other human being who works unceasingly. I had been appreciating about the beauty of various places in the writings at the work for so long. Moreover, I do not even remember when the last time that I had vacationed was. Professionally I am a travel content writer working in a firm based in Ahmedabad. So for the above-said reasons, I was craving to travel to any exotic locations, where I had never been before. Yes, I hoped that at least by now, I was bitten by travel bug! With this very same thought, I shared this to my roommates who are working in the same IT companies. They too were waiting for some leisure time, so that they too could go for vacationing. I had got the perfect people to accompany. Moreover, my family living in the interiors of Ahmedabad too can feel relieved that they are the ones who are coming with me for this exciting tour. So it is going to be a perfect girl trip!
Now our very next step was deciding a perfect location for our trip. Riya suggested some locations like Meghalaya or Arunachal. But Sheetal was of the opinion that all such northeastern regions would be difficult to reach from, besides the political unrest existing in our en route. And she added with yet another potential option as she got to watch an enchanting video uploaded by official Kerala tourism website when she was randomly scrolling through her youtube recommendations. There were beautiful mystic hills with the same the lush green atmosphere that can be seen in the northeastern regions or even more gorgeous. When researched more, she saw numerous tour packages based in Kerala and that too with such a lower price. So finally, now there were no more choices other than Kerala for all three of us.
As per the instructions given by Gogeo Holidays which was the tour company we had relied on, we booked a direct flight to Cochin, as all others were halting at either Mumbai or Bengaluru sparing too much time in between our journey. Moreover, we were travelling to our destination with limited time. And finally, the day had come! We reached on time at the Cochin International Airport. Even though we were a group of three girls, much ironically, we did not demand any tour executives to accompany us right from the airport. So we hired a cab and set out for Erattupetta, where our tour company had booked our rooms in a nearby resort. We could not enjoy the greenery of these regions as it was getting dark once the sunset in after the vast expanse of solar power panels in Nedumbassery, which is the largest of its kind in the entire country. Thereon in the further journey, it was all darkness except for the lights in the major towns of Perumbavoor, Muvattupuzha and Thodupuzha.
When we reached the resort, it was already midnight. Riya was sleeping very profoundly then. We did not bother to wake her up initially. But when we were up to planning to prank her up, she suddenly jumped from her seat and shouted, "Had we reached 'Illikkal kallu???" For this funny movement, all those who were awake in the reception of the resort burst out laughing. I don't know, this particular response from the people around could say much about their innocence. Just then our tour consultant was informed that we had arrived at the place, which they gave the reply that we had to get ready by morning 8 the next day. Only the reception of the resort was built in a 2 storied building, the rest (including our allotted room) were as separate cottages. They were compact, yet comprised of all latest technologies. All of us dozed off within no time, due to the long journey.
We woke up in the same chronology as we used to in our room in Ahmedabad, with Sheetal waking up first, I the second and Riya the last. Even in the food that we ordered from the restaurant was different. But I dipped my fingers in both the traditional chicken curry and the vegetable stew along with the softest Appams. It was truly mouth watery. With very light luggage we preceded to the lobby, our tour guide, Mr.Sunil was already waiting for us there. He was an ex-military guy, so was very warm and polite. In our cabs, we went up to foothills of the kallu, as the roads were constructed recently as said by 'Sunil chettan'. Considering his age, we thought of addressing him as 'chettan', they are the regional language for 'brother'. Once arriving at the scenic spot, we got down at the base of the scenic spot. The view even from that spot was enticing. So we took many selfies with the verdant hills in the backdrop.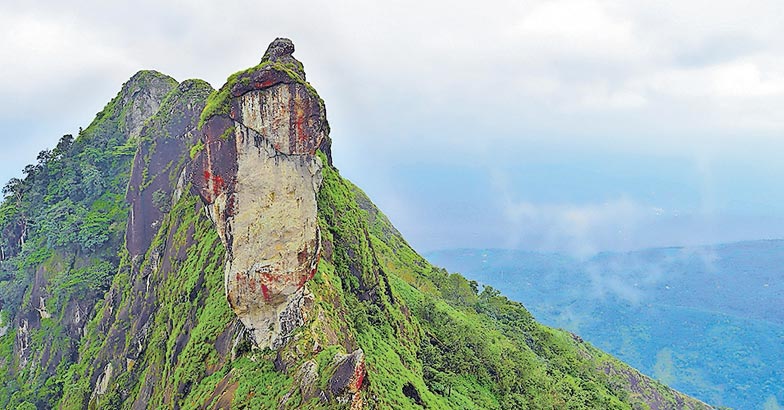 As it was a 3-kilometre steep trekking path, Sunil chettan suggested us to step back to our car to avoid walking the strenuous hills. Later that road and the challenging drive were indeed an adventurous act of our entire tour. As I was sitting in the middle seat, I could realize that the car was only climbing up in first gear. At the end of the road, we got down from the car and walked the steep hills. On both sides, we could only gaze breathtaking views. This was the real greenery and beauty of Kerala that had been adored by the world. When proceeding forward only we got to realize that there are actually 3 different rocks jointed at the base. Chettan informed us about various myths associated with each of them. For a moment I thought that booking our packages with this particular tour company was one of the best decisions I had taken in my life.