The picturesque islands of Andaman are not only about the beaches but also for various other surprises in your travel kitty. Well, we are also not talking about the ruined British monuments or the mangrove creeks alongside the turquoise blue waters that you get to glimpse in between your eventful journey in the islands, but about the mesmerizing waterfalls that are veiled under the major human inhabitants. Yet, some of them can be explored without even delving deep into the deep jungles. The aesthetic beauty of these cascading waters is inevitably going to spellbind any nature lover who visits them.
Below given are the spectacular waterfalls that make Andaman even more beautiful and exotic.
White Surf Waterfalls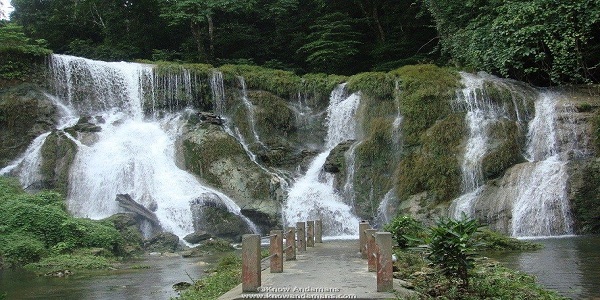 These enticing waterfalls are an epitome of natural beauty, apart from being the most popular and largest in the Andaman Islands. They are a standout from all other Indian waterfalls as the rocky terrains are wholly hidden by green covers to give a mesmerizing look. Besides the cascading waters of White Surf are very deservingly called so, as you could see them as white misty snow before they are settling them finally in the pool. However, the pool beneath is in utmost peace and calm.  Nature lovers may dip themselves and swim deeply in the lagoons of White Surf Waterfall, apart from being refreshed in its crystal clear waters. You could even glimpse the base with small rocks and sand underneath the crystal clear waters. Tourists do not have to be professionals to click incredibly glorious pictures of the spectacular waterfalls. The location is already quite bewitching when glanced from any angles that you focus your camera at.
How to reach them:  After disembarking on Little Andaman boat jetty from Port Blair, you may later move to Hut Bay for around 7km. At this particular spot, you may enter through an arch and trek for 30 minutes through the stone-paved jungle pathways. On your path, you could get to cross small adorable bridges, below which various small springs flow along.
Wimberlygunj Waterfalls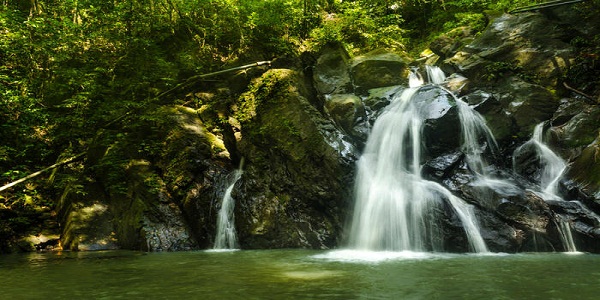 Unlike Chennai, you do not have to take the risk of travelling greater distance to behold the view of an exquisite waterfall. Barely a 34 km drive from Port Blair will fulfil your dream of witnessing such a pleasing sight of this captivating waterfall at Wimberlygunj, which is indeed a treasure for in Andaman. However, they are rarely included in all those popular tour packages. Anyhow, when you are strolling up to the waterfalls, you may notice that they are almost hidden in the deep forestry and so is unspoiled in all its spots, whether you are at the downstream area or upstream. In the nature walk leading to Wimberlygunj, at times, you get to dip into the knee-length chilling waters at its couple of delightsome fords prior to arriving at the waterfalls themselves. Once you are at the range pool of the waterfalls, you could get to gaze at the steep and heavy rocks on both sides and slippery ones of peculiar shapes on the spots you will be required to walk.
How to reach them: To arrive at the base of Wimberlygunj falls at Bamboo flats from Port Blair you either rely on both road and ferry or just the ferry. Once hiring a cab, you may have to first arrive at Junglighat and via Goal Ghar Junction you will reach a ferry junction. By letting your vehicle to sail across the sea for 15 minutes, you will reach the destined island. Towards the end of this tour, you may have to travel for around 6 km to arrive at the entry point of the falls.
Whisper Wave Waterfall
Whooping heights should not be deemed here as a criterion to measure the greatness of a waterfall, especially when talking about the Whisper Wave Waterfalls located in Little Andaman. It is the ethereal beauty of these cascading waterfalls amid the tropical rainforest of this islet that is going to soothe you. The pristine and clear waters flowing alongside the river boulders of Whisper Wave will further tempt you to dip in them. The enticing waterfalls can be adored in two levels basically. The one at the higher spot is wider and of irregular shape, whereas, the lower plane of Whisper Wave is astonishing of an even height. Such uniquely balanced flow of water will look as if they were designed by any skilful landscaper. Anyhow, greenery is at this jungle side is like no other that you get to see in the whole archipelago, as the tourism is too at its nascent stage. Often you will be compelled to customize your packages personally to include them in your travel itineraries.
How to reach them: As mentioned earlier, they are located in the Little Andaman, so you need to catch a ferry from Port Blair. Once embarked, you need to travel around 13km by road up to Krishnagar. Since then you may have to trek along with the thick forest cover for approximately 2 km. Such a jungle stroll across various small water streams can be a challenging experience of your entire tour. Moreover, you will be covering the views of Palm Tree Plantations.
The real beauty of these cascading waterfalls should never be missed in your vacationing in Andaman, as the unspoiled and bewitching greenery in close proximity to the falls is fairly unique to the islands here. However, reaching to each of them can be tiring if you had not relied on any efficient tour companies based in the Andaman Islands. Anyhow, with that same wanderlust, you may contact Andaman Tour Travel who would provide you with the best tour packages covering all the prominent travel locations in this charming island. Moreover, you will be provided with the tremendous opportunity to customize your package in your sheer travel preferences. Quite surprisingly, you could avail these travel deals at the most affordable prices. Besides, the tour consultants of the reputed travel firm will help you all your concerns about travelling to a whole new travel destination such as Andaman.