The sunset and the hued dusky sky had never been this beautiful, as we got to witness on that day at Kakkathuruth. Although our major honeymoon location was Alappuzha in Kerala, fate has brought us here. For which, we would be always grateful to the people at the resort we stayed in Alappuzha. This was never planned before. After paying heed to their words, we thought of spending some time at this quaint tiny village situated at the southwestern part of the district once we got to know about them. Even though we are from this northern end of India, we still feel proud for the international recognition that a tiny village of our southern state of Kerala had recently gained.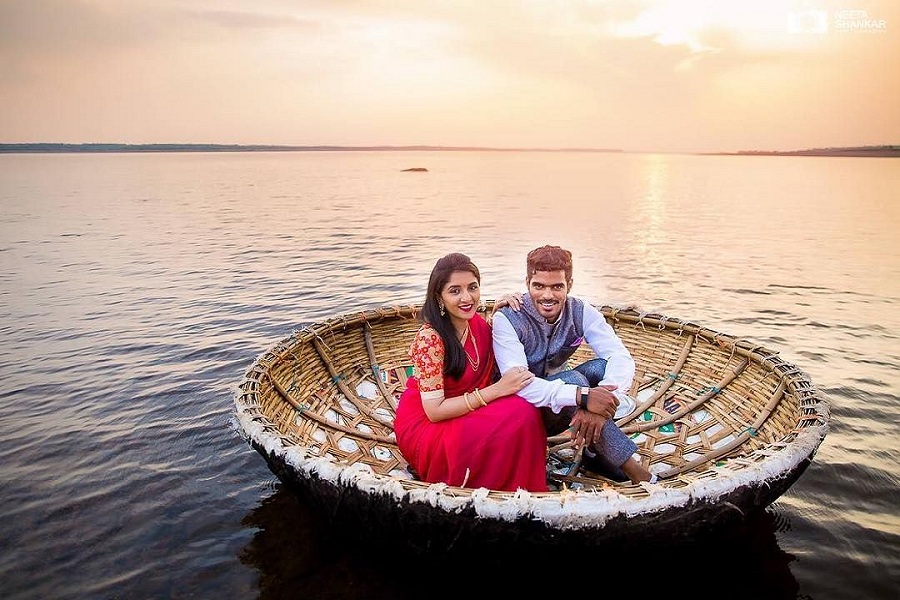 I believe that we were the first couple to ever set out for a honeymoon, 7 Indian states away on the very next day of our bidai. We were really exhausted after the long wedding ceremonies lasting for almost 6 or 7 days. The destination for our honeymoon was an absolute surprise for us as they were all planned and arranged majorly by my sister-in-law along with other female cousins of my husband. Since his childhood days, he was pampered by all of them, as he was the youngest and the last one to be married in this generation. Everyone loves to make fun of him and giving him surprises. So, we were not made to know about until we stepped out of his ancestral home in the South of Delhi. I was in happiness that was in knew no bounds. We were going for our first tour together to Kerala!! Both of us were really thrilled and felt thankful to all his cousins for giving us such special gifts.
From the Indira Gandhi International, we only had to fly for barely 3 hours, as our tickets were pre-booked for a direct flight by a tour company named Dream Holidays. I believe that such a provision will not be made available in any of those usual tour packages. I am still remembering that, when Geetha mausi's daughter and son-in-law went for their trip to Darjeeling, their tour operator was reluctant to provide such a facility even after continuous requests. Ah, anyway, when we arrived at the Cochin International Airport, our tour guide was already waiting for us outside near the parking lot. He accompanied us to the cab sent by our tour company. We had to travel for at a stretch of 2 and half hours to reach our resort in Alappuzha.
I had never expected such facilities here in Kerala besides knowing that they are the most literate state of the country. We were travelling by 4 lane highways!! , right from the moment, we got into the someplace named Cherthala. Until then the natural beauty of Kerala was actually a bit limited. But once crossing that place, the views were getting better.  Small towns that passed by on our travel were truly adorable and looked way different from what we get to see here in North. My husband was sleeping by my side with his head resting on my shoulders. Poor lad looked damn cute in that pose. However, I was continuously watching the scenic views of the vast Vembanad Lake on crossing various small and long bridges over them.
We finally did arrive at a charming resort set on the banks of the same Lake. Only on looking keenly to the structures behind that we actually got to know that they were actually floating in the serene water bodies!! After the check-in process, a staff of the resort accompanied us to the resort that was allotted to us. Again to our astonishment, we were to stay in one of those beautiful structures floating across the expansive water body. Such a geographical location of the rooms did not hamper the world-class facilities in the indoors of the structures. We were again thanking our cousins for choosing this quixotic stuff in the packages. We were wondering how they had managed to set all of them, even if the rent for them was one the cheapest. When it was time for lunch, we savoured the best delicacies of traditional Kerala cuisines. We served with rice along with Karimeen Pollichathu and shrimp roast, which were both very spicy and mouth-watery. After taking some rest in those cosy rooms, we ventured out for the first romantic getaway of our honeymoon.
It was at Kakkathuruth located to the northwestern part of Alappuzha. Our cab was back to us to pick us from the resort. Once travelling for almost 1 hour, we reached this picturesque spot that is a beautiful extension of the coastal areas of the region. It was approaching towards the same timing as the National Geographic team had visited the same spot and ranked them one among the best sunsets viewed from the places all around the world. They were indeed true. We could witness that the brightly coloured sun was hiding behind the tall coconut palm slanting on the verges of the tiny Island. Moreover, the place was strikingly very calm and tranquil, which brought about a romantic ambience very instantly. From the corner of my eyes, I could see that my ever romantic hubby was staring at me constantly in that lovely dim light. At that moment, I felt that we had started rejoicing our lives together.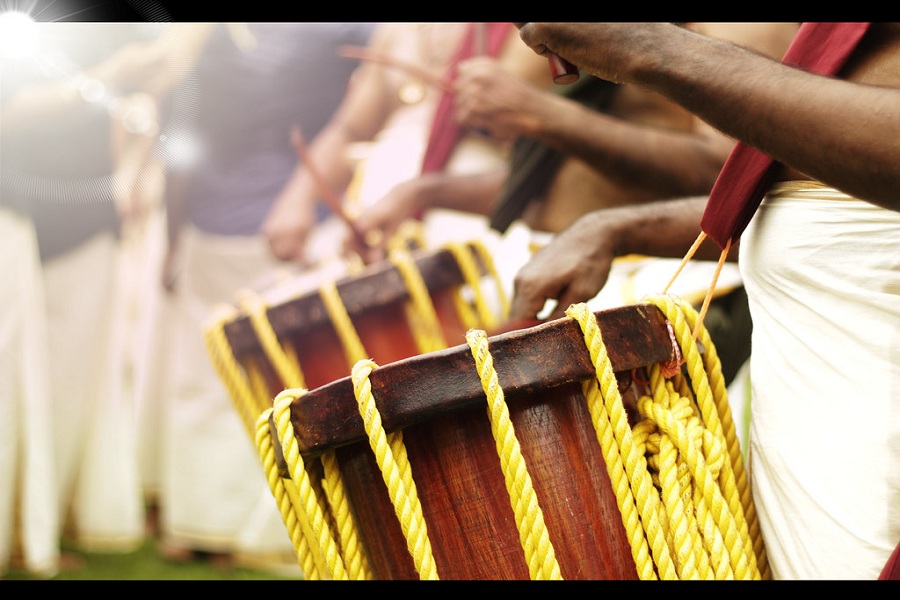 On our way back, we were caught in some traffic caused due to some nearby temple festivals. The loud rhythmic snares heard from their large percussion instruments called 'Chenda' were making us move along with the tunes. Moreover, it was a visual treat to witness other religious installations following them. Obviously, when we were back to the resort, it was really late. Yet, their staffs were kind enough to arrange a romantic candlelight dinner at the lakeside. We were truly having our private time together. Later on, enquiring them, they informed us that it was on the special request of our tour company. I was very much sure of the minds behind this conspiracy.  Anyways, this honeymoon trip arranged by our dear ones will be always remembered and close to our hearts.