Kerala is not only for its backwaters but also for the spicy seafood that they serve. We had to admit that much-known fact even though we had already tasted various other mouth-watery seafood dishes before in our road travels. I and my husband being ardent travellers and foodies, we never miss any chance of savouring any sort of food that a typical human being could consume. We set out for our journey on every month, most preferably on second Saturdays and the following Sunday. You might be wondering why we are taking so many risks in winding up our tour within two days. Well, presently we are on exploring the lesser-known travel destination spread across on this southern tip of Kerala and where we reach and return within 2 days from our hometown Hyderabad.
Our very previous trip before this was to Thattekad Bird Sanctuary, located also in Ernakulam. However, that was located to the eastern side of the district and it was full of high verdant hills and lush greenery wherever you turned to. Also when talking about the food that we had on the trip, it was the Kerala style of cooking tapioca and served with Beef roast. At that visit, we got to receive an advertisement brochure for Lelagoon Holidays. It looked impressive from the very first look itself. Further, we were planning to travel to the urban spaces of the city and in their tour packages, they had covered all those prominent tourist locations of the city.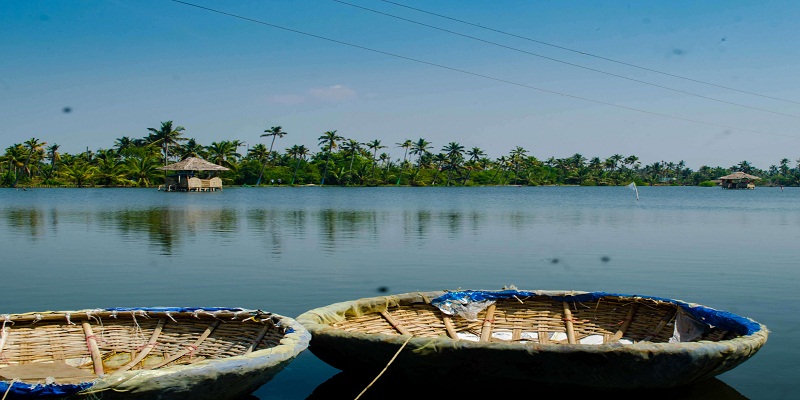 Within no time, my excited husband contacted the tour operator over the phone and talked with their consultants.  We finally settled up with this particular package that included Njarakkal Matsyafed Fish Farm. They had very lately added this new destination to their list of tourist places. Surprisingly, we were the very first customer to opt for them for which we are still feeling blessed, as they gave special offers to us. So on the scheduled day, our tour representative accompanied us from straight from the Cochin International Airport and got to arrive at the location within a road travel of 1 hour to finally arrive at the location. Even on the way in which we were travelling, we got to witness some parts of the famous Cochin backwaters. We crossed some really long bridge across the lake also known as Vembanad Lake. The tall and massive cranes of the only International Container Transshipment Terminal surprised us and on the opposite shores, there was the popular spot of Fort Kochi.
Although, we did not find the place (personally me!) impressive, as it seemed like any normal vast water bodies that we saw on the way. However, that misconception did wipe out as time proceeded. There were some soothing engaging activities and tasty seafood served for us. Both sides of the road that we reached were huge fish farms. I think they would have got that depth to accommodate such a large population of regional fishes. As it was a sunny day, we first had tender coconut juices from their kitchen. That natural liquid did vanish the tiredness we had after those long flight hours. We thought of relaxing at the traditional hut kind of structures erected inside the farm.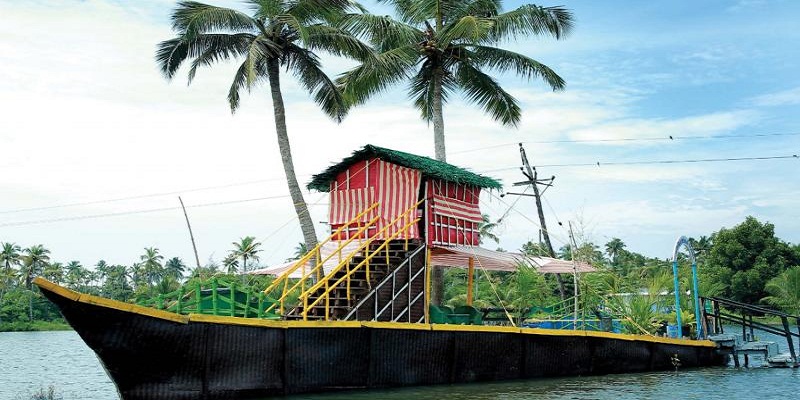 The later times of the day was spent by the instruction of the guide present there. He came to us in the hut and gave us two angling sticks. And while we were angling he explained to us about the traditional farming methods followed in this part of the state. From his words, we got to understand that they are following alternative species in these water bodies. On alternative six months duration, they do fish farming, that would comprise of shrimps, pearl spot, Crab and some new varieties called Poomen and Thirutha and the next six months for paddy cultivation. My confused husband was wondering, how they cultivate rice at this field filled with water. On further enquiry, we got to realize that the crop grown here are the Pokkali rice that would grow with tall green grasses.
To our astonishment, my husband caught a Karimeen (that is the Malayalam word for Pearlspot) while we were discussing them. We were thrilled about that. Some other travellers who were on tour came there and were appreciating his skills. Furthermore, we were more excited when we got to know that, these very same fish will be going straight to our plate!! The staff in the restaurant set inside the farm will be cooking them for us in our lunch. We had earlier been to a fish farm in Coimbatore. But they did not have this innovative idea.
So when the wholesome lunch was served to us, we saw that same fish in the form of Karimeen Pollichathu which was cooked very traditionally and was wrapped in banana leaves. Along with this, they also served a Milkfish curry prepared in Kerala style, Crab Roast and small shellfish fries. We were to eat them with a maroon colour shaded boiled rice. Even the aromas and that tempting view of this spicy food satisfied our burning stomachs.  The troubles of eating all these mouthwatering recipes with bare hands did not deter us. We never had such tasty seafood dishes in our lives before.
The later times of the day were spent on the banks of these water bodies and in some interesting activities. There was a tree-house kind of a structure built in the farm. Within no time, we mounted up to it and relaxed for some time as the cool breeze in that sunny day looked enjoyably weird. It was the photography time of my hubby. He did not need to be blamed as the views around were truly charming and peaceful. He clicked many pictures with those large ponds in the background. When the heat was slightly lowering, we moved to the kayaking boats. We could choose any two of the 5 boating options available on the farm as listed in the tour packages. However, that Kuttavanchi caught our attention and rushed to them.  We sailed for some time in that by rotating at the corners. It was really awesome. Later for witnessing, we proceed to the Araattuvazhi beach situated nearby. Being a local beach, it was almost empty, but we had our time.
In every aspect, it was a different yet tempting trip along with my husband to savour the real taste of traditional Kerala food. Thank you Lelagoon Holidays!!