Most of the tourists set out for a tour especially to taste the adrenaline rush adventurous activities and feeling close to the victory of life in suppressing fear. Some used to take it as a chance to shed off their fear for any particular agent by experiencing it slowly. the adventure packed tourism nowadays are safely erected keeping in mind the safety of a life blended with enthusiasm. Tourists flocks to Kerala to witness the evergreen beauty described by all and once they reach these picnic spots in Kerala they are on full hands to try out some adventure activity amidst nature. To get a relaxation from the busy life, people most commonly opt for a holiday tour and if you can add a little bit adventure to your holiday it becomes more thrilling. Kerala can be best chose for taking out in these activities as it is blended with the alluring and majestic hill stations of western ghats. Such holidays involving this feat will increase people bond in families and friends as teamwork and cooperation bring out best in the individuals and is the reason why amazing family holiday packages Kerala is sold out increasingly. Kerala offers som of the adventure activities like Mountain climbing, paragliding, bamboo rafting, tree house stay, cycling, camping amidst wild, nature walk etc since the estate is dotted with rivers, beaches and hills.
NON – WATER SPORTS ACTIVITY
PARAGLIDING

Who not wish to fly over the welcoming hands of nature without wings? The recent advances in technology and the human brain has devised some techniques to fulfil your dream of flying. Paragliding is an extreme adventurous aero sport where the pilots can fly a lightweight, free-flying foot-launched glider aircraft from the top of hills in the air and that allows you to fly over plains. on the course of your ride, you can have a closer look at the birds flying with you and feel the excitement of being at 6000 feet above sea level that too freely. The view of small streams and rivulets from the top is an enchanting sight and Vagamon in Kerala is set to thrill its visitors with paragliding activity. You will be accompanied by trained professionals to guide in operating the glide. The ride would take almost half an hour and is mostly adapted during post monsoons since wind speed and quality are predictable for safe take off. The perfect platform for paragliding is provided by Kolahalamedu hill which is 4 kilometres far from Vagamon which will take you to 3000 feet and 10 kilometres long ride amidst cool climate, meadows, grasslands, tea gardens and shola forests. The Varkala beaches located 50 kilometres from Trivandrum has magnificent cliffs which account for the possibility of paragliding programs here.
MOUNTAIN CLIMBING
Kerala boasts of possessing vibrant hill stations to help the tourists to satisfy their longness for mountain climbing. an extreme adventure counterpart, mountain climbing requires both mental and body fitness. The tourists who would come to Kerala for example from Bangalore with Best Kerala tour packages from Bangalore would obviously try on it as they most commonly come in a group and wish to spend a thrilling holiday together. It takes a full day to climb the mountain and lot of preparations including the arrangement for the food supplement during climbing. Munnar, Wayanad and Thekkady are the popular destinations for mountain climbing.
TREKKING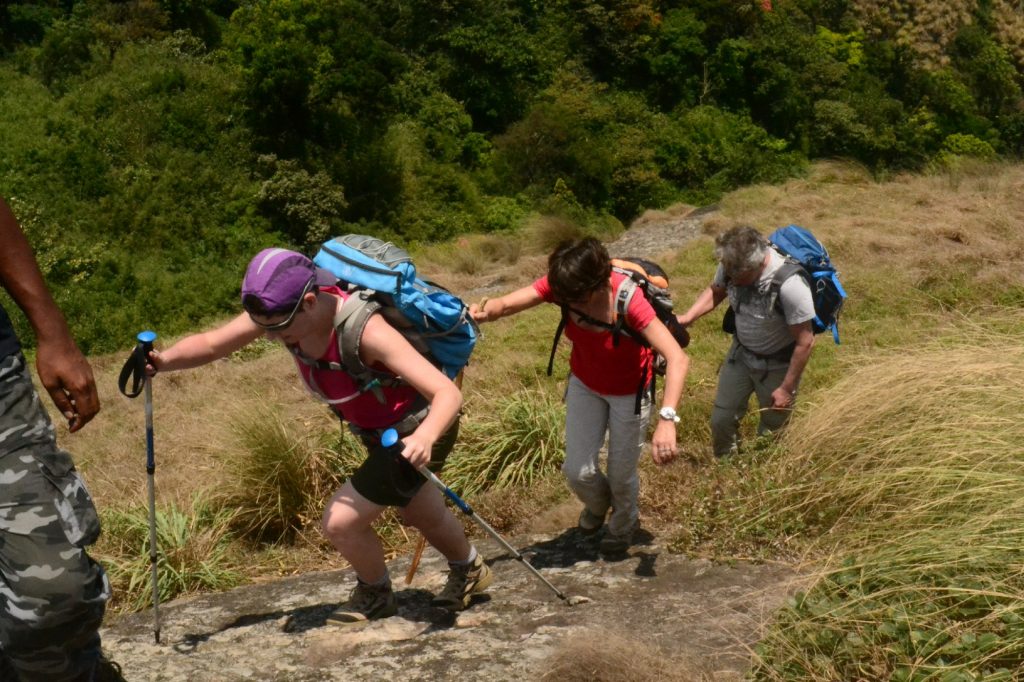 Th excellent idea to explore the high ranges is through trekking where the expedition will take you to the heights of a mountain slowly and an amazing view of grasslands and valley down there is so exciting to watch. Walking through cardamom forest by inhaling the aromatic presence of cardamom surrounded by wild will be an unforgettable moment for you. During the night you can opt for night camping too. In Thekkady, the jungle trail at night with armed officials and locals understanding each beat of the forest is truly fun. the trek will take you to the most exciting destination of western ghats. on the way, you will get a chance to encounter wildlife too. Some of the best trekking destinations are the Chembra peak, Meesapulimala Peak in Munnar and parts of mountains in Thenmala.
TREE HOUSE STAY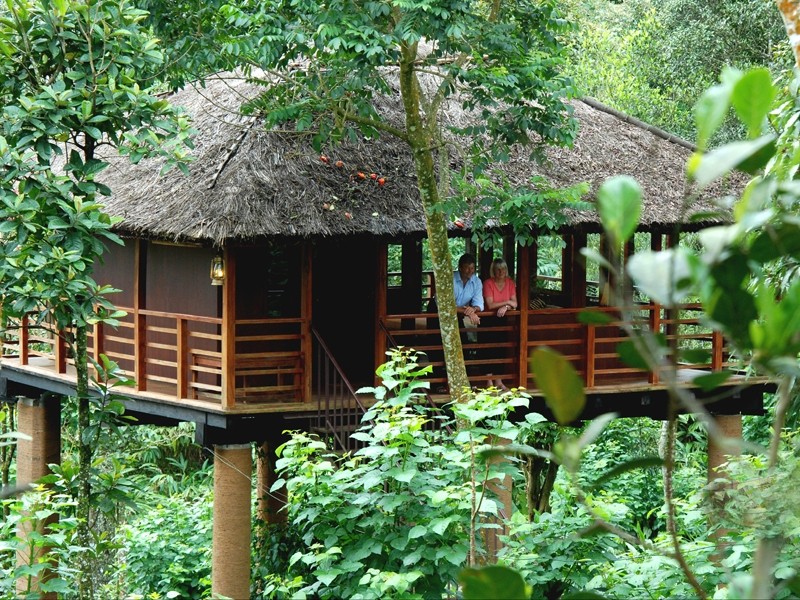 To create a true experience of immersing in nature, the idea of the treehouse was formulated where a house like structure made up of eco-friendly materials are erected on the top of the tree and tourists can avail the opportunity to stay in a tree house. Famous Munnar honeymoon packages are best suited for tree house stays, quite adventurous but somewhat thrilling to have a sleep on the top of a tree and feeling the vibrant presence pf wildlife. Most of the tourist destinations like Munnar, Thekkady and Wayanad provides a tree house stay.
WATER SPORTS ADVENTURE
SURFING
Surfing enthusiasts visit Kannur, Kovalam and Varkala to enjoy the thrill of surfing the waves. the best months for surfing in Kerala are January and February when the waves are strong enough to provide an eminent ride over the waves. At Varkala in Trivandrum, there is surfing training centre where under the guidance of professionals, the surfing is taught along with food and accommodation.
BAMBOO RAFTING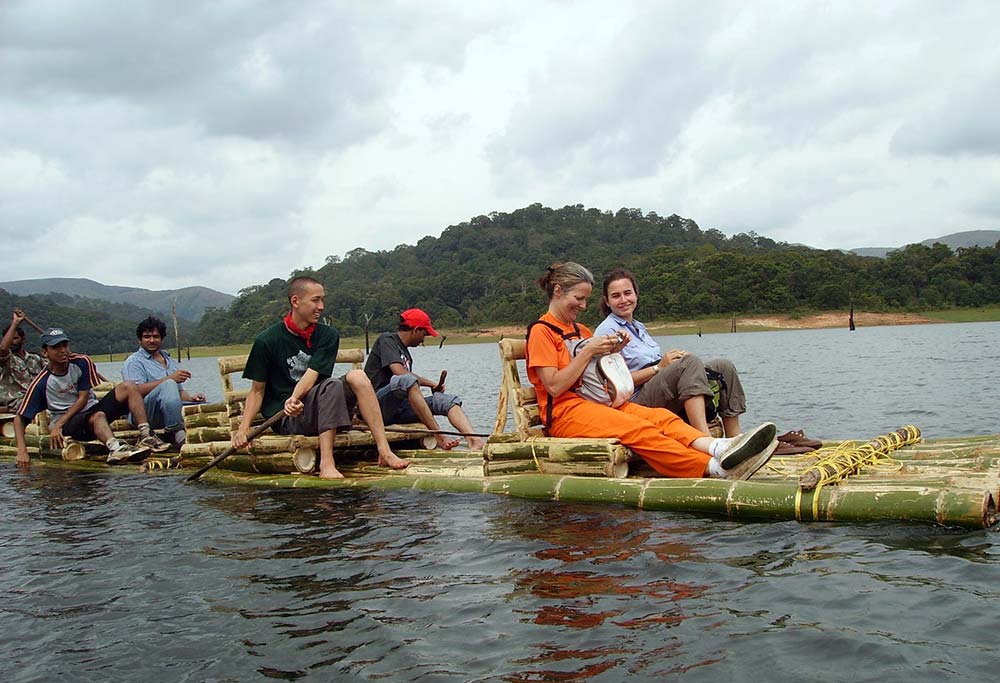 Bamboo rafting is unique as the trip is progressing on a bamboo raft. This program, which is purely eco-friendly takes you to trek inside the thick forests and then to the catchment areas of Periyar tiger reserve. They would only allow a maximum of 10 tourists in a trip. For perfect guidance and safety, 5 guards and one armed guard will accompany your trek. Bamboo rafting can provide you with a rare opportunity of encountering wild animals and birds. To chose a bamboo rafting is a wise suggestion as you can explore a lot more compared to spending time in overcrowded boats with cheap Kerala family tour packages. A great panoramic view of lakes and forests will be open up before you. The trip starts at 8 am in the morning and ends by 5 in the evening. As your feet will get wet it is not wise to wear jeans and high heeled sandals. The trek requires a lot of walking so carry water with you. the lunch and snacks will be provided on the course of the tour. There are chances to watch wild elephants swimming with its trunks used as snorkels and rare monkeys on the tree and these closer views are not possible when you are on boating due to noise or crowds.
KAYAKING
Undertaken commonly during backwater tours in Alleppey, Kumarakom and Kannur kayaking allows to take the tourists deep into village world and on the course of ride close interaction with local fishermen catching fish is possible and you can take a tour to the desired spot you want but beware of water currents during monsoons. Alleppey is the best spot favouring kayaking with pedals and is a culinary and cultural adventure.
PARASAILING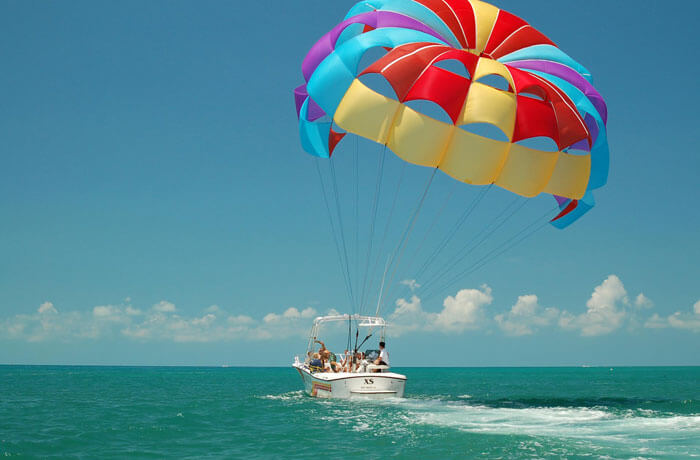 Mostly seen in movies the parasailing is an amazing water sports adventure where the sailor is strapped to a parachute which in turn is harnessed to a motor boat. Beaches are the venues where these activities are carried out and after monsoon seasons are best suited for parasailing as clouds will be clear and the wind is controllable.Available at Kovalam and Alleppey beaches with amazing Kerala Holiday packages for family.
CATAMARAN SAILING
Daring attempt to conquer water is the simplest way to describe catamaran sailing as the boat is extremely small often made with a wooden vessel with twin hulls joined together usually sailed across backwaters of Kerala. Once these were used during wars but now it enacts the most water adventure sport for tourists. Alleppey, Kovalam, Varkala and Kannur are the places where catamaran sailing is undertaken.
Thus let's try out some of the above-given adventures to taste the enthusiasm of a Kerala trip and also to unveil the adventurer in you.