I was on top of the world when our father booked a tour for me and my sister. I am studying at Pune and my sister is now working at Ahmedabad. With the help of Kerala tour packages from LeLagoon Holidays, he said it was easier for him to plan out this trip in between his busy schedule. We were so thrilled to come to Kerala as we were really in need of a break from the routine that kept us caged in a monotonous life.
My sister came to Pune for my convenience and we had a flight booked for us as it is the best and fastest way to reach Kochi from Pune. It took us like two hours to reach there and we wanted to rest for sometime before setting out to explore Kerala. We used to talk about planning a domestic trip since we were at school. Now that my sister got a job, we were staying apart for a year. This one was a perfect meetup as we had some cousins at Kerala who always used to come us rather than us going to their town. We reached Kerala by around 5 in the morning and so we had plenty of time to rest at our hotel room in Kochi. Our tour operator had booked a room with a great view from the balcony which gave a fresh start for the first day the trip. We had some great coffee that was delivered to us at the room and had our complimentary breakfast. At 8 in the morning, we left Kochi to reach Alleppey – our tourist destination. Our driver was so fluent with Hindi, English, and Malayalam and this was a bonus for us. He knew the routes very well and had great knowledge about all of the tourist destinations in Kerala.
We reached Alleppey by 10.30 am. Our travel guide cum driver (the best any North Indian could get here in Kerala for the best assistance) explained about some of the main attractions at Alleppey. We wanted to go straight to the backwaters and try the houseboat cruise as we have heard a lot from our cousins. At first, we went to the International Coir Museum and other coir factories and learned a bit about the coir manufacturing business. The coir is being made from coconut husk for both national and international market. It was the best start with free entries to some places and we learned a lot too. Many women were working here making them the employed ladies leading a family. This indeed was a great sight. There are many handicraft business centers too at this place which was a commercial hub of Kerala for a long time. We bought some souvenirs for our parents.
He took us to the Alleppey Beach and Marari Beach which had great golden sands. We basked in the sun and went back with many sun-kissed photos. These places were so crowded and so our guide took us to Andhakaranazhi Beach. We spent the evening of our first day thereby having some street food and watching the sunset. Marari Beach is usually a quiet beach away from the noises of the city and is a serene place surrounded by the soothing greenery, but on that particular day, many groups were there enjoying their day with their family. He took us to Pathiramanal Beach the next day to explore its rich biodiversity. Visiting the beaches was a great experience for us as we seldom go to such places when we were at home.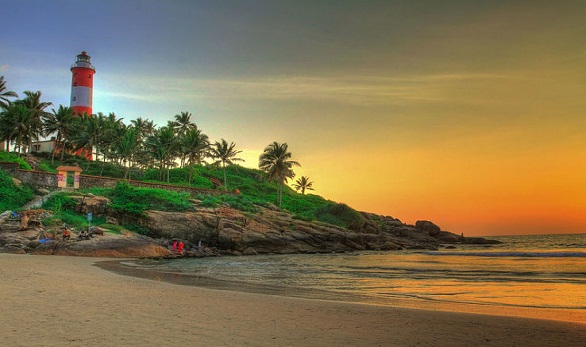 Another attraction of Alleppey is the Alappuzha Lighthouse that was built during colonial times in 1862 near the Alleppey Beach. There were more than a hundred spiral steps and once we reached its top, the view of the Arabian Sea and the entire area around it was so mesmerizing, we were so tired but the climb was worth it. There is also a museum which tells the history of the place which was once a trading hotspot in Kerala.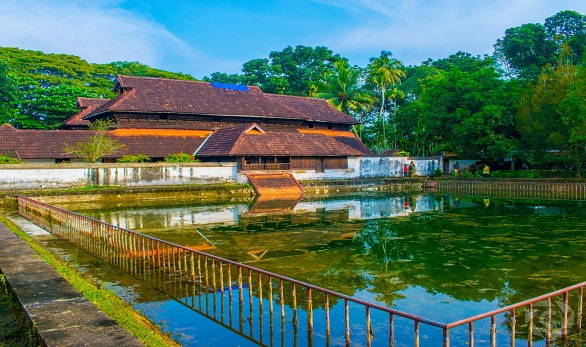 Krishnapuram Palace was built by the eighteenth-century king Marthanda Varma. The place has got many sculptures, silver antiques, and large mural paintings. There is one painting called "Gajendra Moksham" which is the largest mural painting in Kerala with a size of about 154 square feet. The architecture of this palace is exemplary and our told that it is a pathinarukettu building as it contains sixteen halls with four courtyards.
The major attraction of this place known as the "Venice of the East" is the backwaters and our cousins came with us during the houseboat cruise. It was a fun trip with so much happiness and serenity. We were meeting after two years at the Alleppey backwaters. There were a cook and an oarsman along with our guide in the houseboat. The one we were traveling was actually the modified versions of the ketuvallams that were used earlier to carry rice and other spices. Now, they are coming as luxury rides with clean bedrooms and attached bathrooms. This was yet another unique experience that we never had in our life. I remember our guide saying that during this houseboat trip we passed the Vembanad Lake. We tried fishing at this largest lake in South India and also could witness the rich flora and fauna of that area. We also visited the place Kuttanad that our cousins used to talk about a lot.  Known as the "Rice Bowl of Kerala" Kuttanad is the only place where rice farming is done below sea level in the backwaters. A simple and close to nature lifestyle is lead by the villagers here. With our guide, we took a village tour too and the lives here are much relaxed than that in Pune and Ahmedabad. We were so happy that we availed this Kerala tour package and it is only because we came to the land of Kerala that we could enjoy the greenery of nature.
The mouth-watering cuisines at Kerala deserve a great and separate mentioning. The traditional sadhya with 24 side dishes, parotta, and beef, pazhampori, seafood – especially the crab fry that we tried with toddy at Kuttanad, Malabari biriyani, etc are some lip-smacking dishes that my tongue will never forget in my life.