With the arrival of unbearable heat, and stifling hot temperature of the sunny season, also comes the amusing holiday days. It is always said that the first notion that runs in everyone's mind while trying to quench the summer heat is a day full of enthusiasm at any of the prominent amusement parks. Not only these amusement parks will entertain you but assure you comfort, relief and enjoyment. And when it's about spending leisure days in God's own country, Kerala what can be a better way to beat the sun than heading to the wonderful water theme parks in Kerala?
If you're in Kerala for your holidays, water parks will definitely make your trip so much fun and thrilling. There are exciting water rides, boating, and so much more to plan a visit with family and friends. People who plan to spend stunning pleasure days with their dear ones must certainly avail the tour packages to Kerala formulated the eminent travel partners, Dream Holidays. There is one among the few tour operators who include amusement parks in their itinerary. Spending a day in water theme parks and participating in various adventurous rides will gift you a lifelong memory. Especially for the people of Delhi where summer is terribly horrible!!!.  Let's have a glimpse of the 5 stunning water theme parks!!!
1. Silver Storm Water Theme Park:
Silver Storm Water Theme Park is located in Vettilapara, Thrissur district and one of the most popular parks in Kerala. It has been designed in a unique style with amazing themes. Being located near to Athirappilly waterfalls, people often visit the waterfalls while visiting the water park visit. Visitors remain mouth struck by viewing the man-made wonders inside the park. One could spot pet animals and birds in the children's village inside the park. Kids are greeted by cartoon dressed staff and sometimes they find time to play with them. The park includes more than 4 rides and they are as follows:- wave pool, Jurassic splash, kids water pool, wild raft rides mama aqua dance, super splash flying dutchman, and bumping boats etc. Apart from the water rides, some slides are there which provide enjoyable moments like the baby train, Columbus, turbo twister, dragon coaster, striking cars, sky jet, lazy mountain river, kids dry games, etc. The authorities provide facilities like restaurants, changing rooms, locker facility, parking, doctor, restrooms, etc. to their beloved visitors. The park also witnesses gathering occasions of dear ones such as corporate functions, wedding, birthday party, private parties special events, and so on. Visitors who are looking for a quality time can rent AC and Non-AC Cottages. The entry passes to water park cost Rs. 400 onwards.
Address: Silver Storm Amusement Parks (Pvt) Ltd, Athirappilly, Vettilapara PO, Chalakudy, Thrissur – 680721.
2. Dream World Water Park: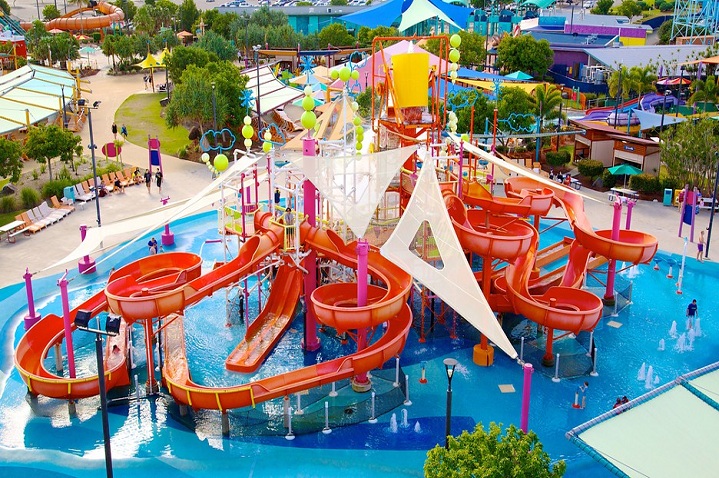 This trailblazing water park is located in Chalakudy of Thrissur district in Kerala with modern amenities and elegant rides. This park is quite near to Athirappilly waterfalls. To welcome the fun enthusiasts the entrance gate has been beautifully designed with dragons. People are allowed to walk and climb the lush green lawns barefooted. Modern water filtration plants have been constructed inside the park. The striking attractions are Rain Dance (with colourful lights, snow showers, and blasting music applicable for all age groups) and Mermaid Pool (exclusively designed for females and kids). Water rides involve stormy river, amazon river, boomerang, infant pool, space bowl and aqua shuttle. Dry rides include dragon train,  kids games, fling Columbus, striking car, family swing, twisters etc. The rate of entry tickets starts from Rs. 200 onwards. Modern amenities include clean prayer halls, parking, locker, ice cream parlours, restroom, cloakroom, toilet, doctor, food courts, etc. People coming in groups can avail bulk discounts.
Address:- Dream World Water Park, Athirappilly Road, Via Chalakudy, Kanjirapilly PO, Thrissur.
3. Fantasy Park:
Fantasy amusement cum Water Park is located at Malmpuzha, Palakkad district. This fun park is located near to Malampuzha gardens and it was opened in the year 1996. Fantasy Water & Amusement Park was created & designed by Neo-Tech Amusements & Resorts Pvt Ltd. They achieved the best innovative tourism product in the state award by Kerala Tourism in 1998. When compared to other theme parks Fantasy park is not so huge but still remains as a source of attraction for visitors and families. It offers dry and wet rides with cent percent water quality and safety. Another most amazing feature is digital planetarium showcasing images of stars, sun, moon, and other celestial objects. This artificial planet helps visitors to learn more about astronomy and space. Its beautifully designed gardens and fountains are the highlighting elements of this place. The overall water and dry rides include super splash, tantrums, boomerang, hart Kiri, mini tele combat, wave pool, jumping house, caterpillar, water kiddie rides etc. It is equipped with modern amenities like restaurants, ice cream parlours, dormitories, parking, video games etc. The entry fare to the park starts from Rs 250 onwards in which group discounts can be availed.
Address: Neo Tech Amusements & Resorts Pvt Ltd, 8/585, Malampuzha, Palakkad -678651, Kerala
4. Happy Land Water Park: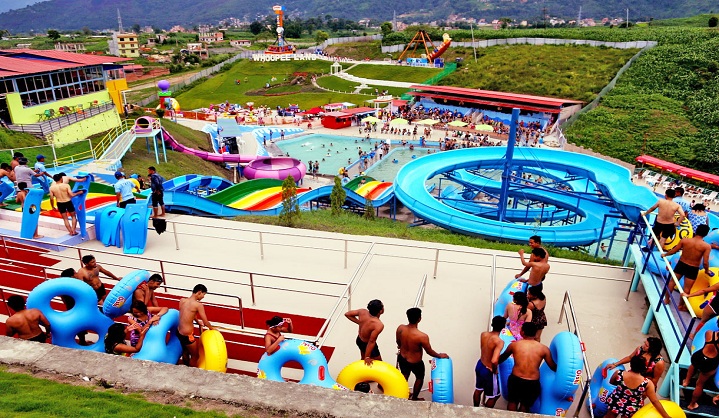 Happy Land Amusement Park is recognized as the first full-filled park in south India crafted with popular rides and games. It is located in Vembayam, Thiruvananthapuram. It was inaugurated in 2005 with the motive to provide thrilling rides. While visiting this amusement park visitors can enjoy the scenic view of trees, hills, and waterfalls. The well-maintained gardens and lush green surroundings take us to a level of comfort and excitement. It is the perfect place to arrange birthday parties, corporate meetings, small parties, family functions, and weddings. The rides include are uphill water ride, wave pool, multi-lane, pendulum, akash, kuhu kuhu express, puspak, columbus, smash, ball pool, butterfly roundabout etc. If we talk about the facilities and amenities, it is not backed by any of the other water parks. It is also equipped with restaurants, changing rooms, lockers, coffee shops, ice cream parlour, parking, curio corner, medical, toilets and shopping stalls. The park is open throughout the week with the entry ticket of Rs 200 onwards.
Address: Happy Land Amusements & Resorts Pvt Ltd, Kuthirakulam P.O, Vembayam, Thiruvananthapuram – 695615
5. Wonder La Water Park:
It's one of the most popular parks in Kerala located at Pallikara, Ernakulam. Within a short span of time the park has gained several awards for the safety compliances and measurements. The park is surrounded by a stunning landscape. It has also won many awards for eco-friendly tourism, Kerala pollution control award and OHSAS 18001:2007 international certificate for safety. Reverse Osmosis Plant is installed to purify the water. To ensure safety and security, machines and water examined time to time in a week. The park is really customer-oriented with a vibrant panel of help desk counter to solve all issues, proper dresses are granted before participating in rides and many more. They also have a medical team to help the injured people. It has various dry and water rides which are further classified into 4 categories namely family rides, water rides, kiddie rides and hair raising rides. The other rides are cine magic 3d, balarama cave, crazy cars, dancing car, vintage tornado, wavy vertical falls, flying boat, spinning coaster, etc. It is equipped with many facilities like locker, parking, restrooms, multi-cuisine restaurants, prayer hall, dormitories, etc. This place is best suited for business meetings, product launches, birthday parties and wedding. To create a refreshing atmosphere, smoking & drinking is strictly prohibited. The entry prices start from Rs 320 onwards and open for all days.
Address: Wonderla Holidays Pvt Ltd, Pallikara, Kumarapuram P.O, Cochin – 683565
There was a time when only students and families visited these parks. But nowadays honeymoon couples have become frequent visitors to the water theme parks. Dream holidays have exclusively curated travel packages to Kerala for the newlywed couples by inculcating pleasure parks in the package. They designed the tour package by including the airfare. Amusement parks are the perfect place for the couples to become closer and strengthen their bond by indulging in various adventure rides. We all know that time will never come back so cherish each and every moment. Once you visit Kerala, try to explore one of these water parks and share your views with your dear ones.