Honeymoon is the most awaiting trip for the newlywed couples. The trip is considered so important for married couples. It is the only moment where couples can bring their hearts to their mouths. Couples always suggest romantic trips soon after their marriage. It is to refresh their souls and minds from the hectic marriage rituals and functions. In past trips after marriage was not so popular. But now it has become an inevitable part of all married couples' life. There was a time when couples used to decide the destination and it used to be within their state or in the neighboring states. But now couples are never-minded to spend huge amounts for availing packages to foreign countries like Saudi Arabia, Dubai, and Qatar in the Middle East and also English speaking countries. And such trips are usually organized by the friends and relatives of either the brides or grooms.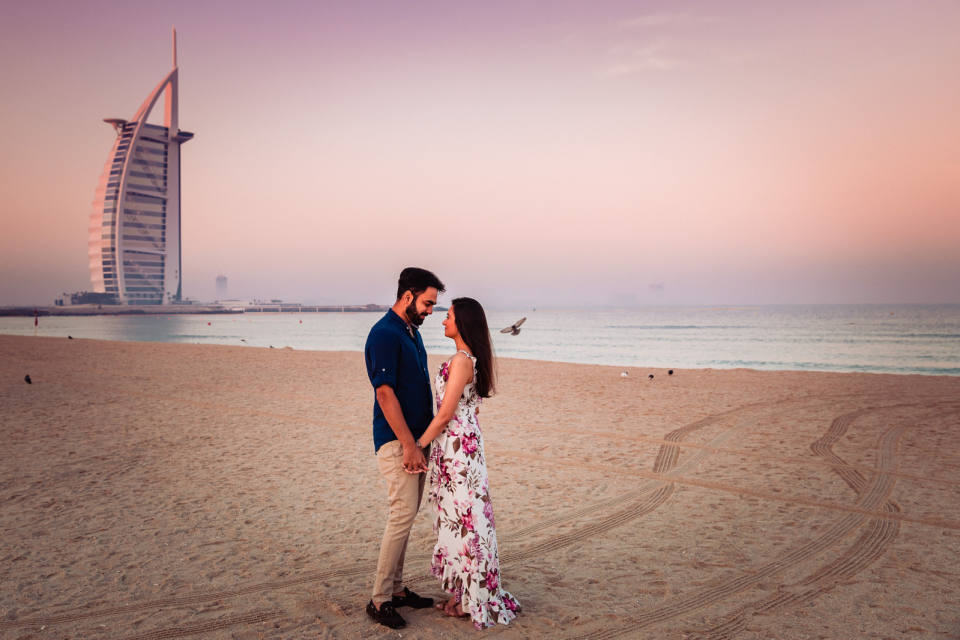 Like every newlywed couple, I also dreamt of visiting some new places. It is always said that couples should visit places that are unfamiliar to them. Touring such places will bring the couples more close and inhibits the growth of dissimilarities between them. It was my biggest wish to visit Dubai, the superlative city in the world. So when my parents started thinking of my marriage seriously, I suggested them to find a groom who is settled or working in Dubai. As we all know that the marriages are preplanned and matrimonial sites act like a bridge that helps us to meet each other. And this is what happened to me also. Finally, my parents found a groom who is working as a Software Engineer in a reputed multinational company with a good family background. Unfortunately, he is working in Oman. I felt very bad and cursed my destiny. Before marriage fixing, we talked for a few hours and shared our thoughts. We liked each other and agreed for the marriage. Before getting married I once had told him about my wish of visiting Dubai. He smiled and replied it is not possible as he doesn't have a Dubai visa. But he promised me that he will take me once to Dubai.  After marriage one day he asked me to open the gift box which he secretly kept in my cupboard. I followed his instructions and when I opened the box I saw an envelope I asked him what is it? He asked to unseal it and I did so. The moment I read the document inside the envelope tears rolled down on my cheeks. I really couldn't believe it. It was a honeymoon package ticket to Dubai availed from prominent Dubai Tour Trawell. I was thrilled and I didn't know how to express my joy and excitement. I hugged him firmly and cried for a while.
After one month of marriage, we boarded a flight to Coimbatore International Airport to Dubai International Airport. The tour coordinators were there to receive us. They greeted us with a beautiful bouquet. They guided us to the hotel. The hotel was like a skyscraper with all the modern facilities. They filled our tummy with delicious food and our minds with pleasing hospitality. They asked to rest for a while and in the evening we started our sightseeing. We were first taken to the world's tallest building – Burj Khalifa. I remain startled by seeing its stupendous beauty. Burj Khalifa is famous mainly for two things one is for the observation deck and the other for the Sky top where visitors used to have scrumptious food. We reached the observation deck located on the 124th floor through a lift from the ground floor within a few seconds.  We captured the panoramic view of Dubai through a small camera screen of our cellphones. After having dinner at the sky top we moved to the Dubai Mall which situated near to Burj Khalifa.
Adjacent to Dubai Mall is the famous Dubai fountain that is illuminated with different colors of light and entertains the people with dances and songs. It gives an awe-inspiring view during evenings. Followed to it we entered the charming mall of Dubai. The spectacular architectural styles and fascinating interiors are worth to see. The mall comprises of 100+ shops. We did a little bit of shopping from there and then returned back to the hotel. The next day's sightseeing begun with Dubai Aquarium and underwater zoo. We both really loved fishes and in my husband's house, he owns an aquarium too. The various types of aquatic organisms marvel at our hearts. We viewed all the fishes by availing glass-bottomed boat rides. We also had a splendid lunch in a restaurant inside the zoo where several marine creatures gave company to us. The tour guide who accompanied us was a Tamilian and was also hailing from Coimbatore. So we didn't find any difficulty in communicating with him. He took us to Dubai Garden. And told some interesting facts related to the garden. The garden was inaugurated on valentine's day. It is home to lakhs of flowers. The flowers over there are arranged in amazing patterns that resemble many shapes and structures. The flowers are also arranged in the shape of national symbols. The guide also added that the maintenance of the garden is handed over to a private organization. On the next day, we visited the famous Jumeirah Beach. Over there we indulged in various kinds of aqua venture sports such as jet riding, parasailing, banana boat rides, and many more. While strolling through the sand dunes we saw many Indian faces. By talking with some of them we came to know they also reached Dubai by availing packages from the same travel operators, but a few days early. And they are going to board flight back to India that day itself. As we are adventure lovers we also participated in various events such as hot balloon flight, desert safari with camels, trekking and so on on the following days.
After 5 days of the Dubai trip, we boarded a flight to Coimbatore International Airport. Those five days were one of the most memorable days of my life. I'm really grateful to my hubby for fulfilling my life dream and also am thankful to the Dubai Tour Trawel for supporting us and curating a wonderful package with enthralling activities.