I soon got a job in a reputed multinational company after completing my graduation. Like every woman, I started enjoying my spinster life with my friends in Hyderabad. Even though most of my friends were from different states our cultural differences didn't hinder our friendship. During the weekends we used to visit almost all the tourist places. One year after joining the company my parents started searching for a perfect son-in-law (obviously a perfect husband for me!!!). As I was the only child for them more than me they had many conditions and expectations for my future husband. Finally, after 2 months of vigorous research, they finally found a handsome groom for me. The guy was also working in Hyderabad as a software engineer. Before fixing the marriage we talked to each other and shared our thoughts. We both were impressed by each other and therefore agreed for marriage. In the month of October, we got married. After the wedding rituals, we plied together to our workstation. The most important part of our post-wedding was still pending our honeymoon. The main reason for our honeymoon to lag was due to the unavailability of leaves. And also we were in big confusion about which place to visit. It was our mutual friend who suggested about Dubai. Hearing the place itself I said NO. It is because I don't like to visit any Middle East countries. I believed that apart from hot deserts and tall towers there would be nothing to cherish. But our friend corrected my thoughts by showing lovely and beautiful pictures of Dubai. We were amused and decided to avail of the tour packages to Dubai. From booking the package till dropping us to the airport our dearest friend was there for us. He also added there are a few surprises waiting for us. And we both were desperately waiting to unveil the surprises.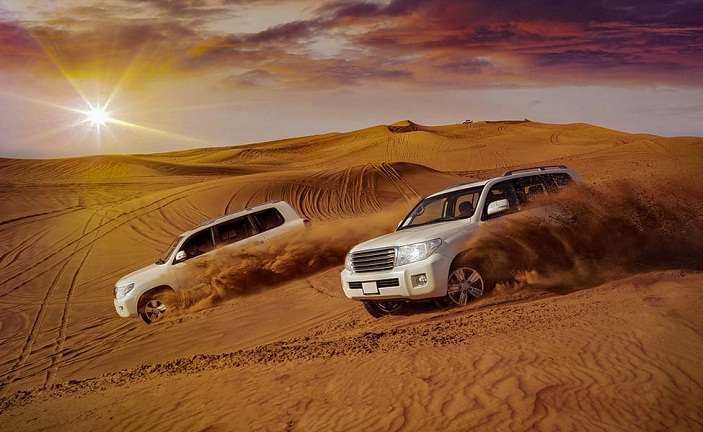 From Rajiv Gandhi International Airport we boarded a flight to Dubai International Airport. On arriving at the airport, the tour coordinators of Dubai Tour Trawell (from whom we purchased the tour package) were there to receive us. They took us to one of the classy hotels in Dubai. The moment we entered the room we astonished by the seeing floral decoration and amazing arrangements of the room. We just inquired whether such decorations were included in the package. They said it was all done on the special request by our dearest and loving friend. We were so happy and expressed our happiness to him through WhatsApp using the Wi-Fi facility of the hotel. After relaxing for a few hours we were asked to get ready for sightseeing. We first visited the world's tallest tower- Burj Khalifa. We enjoyed the splendid panoramic view of the Dubai city by standing on the observation decks. We also savored the delicious cuisines at the sky top. Followed to it we visited the famous Dubai Mall. Adjacent to the mall is the prettiest Dubai Fountain is situated. The fountain is illuminated with various colors. We had grand shopping in the Dubai Mall. Although the mall comprised of 100+ shops we hardly visited a few of them. Before purchasing things we visited the well-renowned Dubai Aquarium where more than thousands of rare aquatic species are protected. We relished fresh juice for the restaurant in the aquarium. To enjoy the spectacular beauty of the marine organisms we were availed the glass-bottomed tour. After spending some quality time we moved back to the hotel.
The next day we began our day by visiting the human-made islands constructed in the shape of palm leaves. We reached the island by traveling in public transports. We also got the golden chance to witness the stunning bridges. Also, we participated in various rides of Bollywood parks. Visiting the park helped us to go back to the old Hindi movies. By the evening we reached deserts. Over there we indulged in various activities such as sand boarding, 4×4 quad riding and many more. Riding on the camels gave us a feeling of royalty.  Our hearts were entertained with the mind-blowing performances of belly dancers. We enjoyed the evening by savoring Arab delicacies. After viewing the sunrise we left for the city to participate in some adventurous activities one such event was bungee jumping. I hope many of us know what actually it is. Bungee jumping is an event where our ankle will be tied to an elastic cord and we will be hanged ourselves upside down. The activity is economic. Dubai Tour Trawell team always allows customizing the packages and therefore on our friend's special request he inculcated this event into the package. The activity actually tests our bravery and confidence. Like any other event, we cannot directly participate in it. For that, we have to follow certain instructions. The instructor asked whether we had any kind of fear of heights or cardiac or ear balance problems. If so such people are exempted from the event and also pregnant ladies. They also asked to avoid intake of heavy foods especially junk foods before the event. One can have juices and fruits. Participants asked to wear simple and comfortable dresses. Wearing frocks and ornaments are not encouraged.
Above all that our dearest friend had checked their license and their credibility. It is the foremost element that should be checked before availing of the package. And this is the most important part which most people forget and become victims of accidents. After following the instructions we reached the spot and were so thrilled and at the same time and a little bit nervous too. We were asked to be relaxed and smile. Also, we were advised not to look down at any cost. The moment we pushed down we were screaming like anything. For a moment we were not able to see anything …but later all things were visible… we both were holding our hands firmly and were oscillating in the air. When we see the city from the top it looks like jigsaw puzzles. Words are insufficient to express the feeling. Although we were hanging for a few seconds, it gave a lifelong memory to be cherished in our old age. As were the first participants of the day, after our activity many of the other participants came to us to know how it feels. And among them, we met a couple from Coimbatore who came to Dubai for their honeymoon tour like us. For the rest of the trip we 4 were together. In the following days, we visited a few more destinations and winded our trip by boarding flights to our natives. Thank you Dubai Tour Trawell group for helping me to change my myths related to Dubai city. We will always remember your outstanding hospitality services and obviously the mesmerizing Dubai city.