It had again proved that Kerala is indeed a Gods Own Country! Me being spent my childhood days here in Kochi, some innocent memories do a flashback at times. Even though my native town is Bikaner in Rajasthan, I don't remember much about the place when compared with those of in Kerala. My dad was posted in the Southern Naval Command in Kochi when I was a child. Moreover, he was here from the time of his marriage until the passing of my 6th standard. They still reminisce the epic photographs they had captured during their special days in Kerala. I had always dreamt of visiting Kerala for my honeymoon ever since I was a child. After two whole decade years later, so when I was at the instant of deciding the location of my honeymoon, we never had to think of any destination other than Kerala. Also, my husband too was in full support of this very decision. And it was him who suggested that we visit Allepey district of Kerala to spend our romantic days together.
So we scheduled our honeymoon to Kerala by the end of December as the tour company we contacted recommended us to plan then, as they had special honeymoon packages for the festive season. Therefore, with all our hopes and dreams, we set out for Kerala from Delhi at an early morning flight. We had booked the honeymoon tour package that comes with the inclusion of airfare, so we did not have to book our air tickets separately. We reached the International Airport of Cochin after the flying time of 4 anticipating hours. We did not have to wait for our tour executive, as he was already present at the airport with a placard with our names written on it. Within no time, we got into the cab that was waiting for us. Our guide informed us that we will be reaching our honeymoon destination of Allepey once covering 80 km by road. As we were a bit tired after our long flight hours and the journey, both of us dozed off to sleep.
When I woke up in between our journey, the cab was crossing a long bridge. The sights that we got to see excited me. I was wondering isn't that the same BOT bridge that I used to cross over daily to my school in Naval Base, which is somewhere near Katari Bagh. Unfortunately, it was not so. My husband who was navigating hurriedly on his phone declared then that we had already covered Ernakulam district and that particular long bridge was the boundary of Ernakulum and Allepey districts. However, we could not really experience the real beauty of the backwaters until this road journey besides catching a few glimpses from the numerous bridges that we covered. It was a plain highway, so the roads were smoother. We reached a charming resort located at the heart of Kumarakom town itself due to its proximity to our major destination. They welcomed us with a beautiful set of flower garlands. Then we checked in at the beautifully set reception.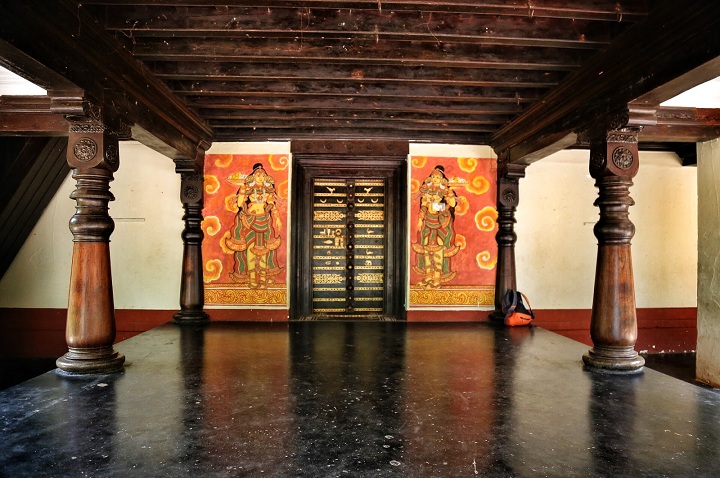 When walking to the rooms allowed to us, I noted that the resort was built in the traditional architectural style of Kerala. Being an architect myself, I was naturally very much curious and enquired to the manager of the resort. He was also very quick to reply that it was constructed in the style of 'Naalukettu.' The light that entered and exited out of that adorable structure was merely astonishing. We proceeded to the spacious room allotted to us that was facing the nearby lake. My husband was very much particular of booking a waterfront room and luckily we got one too. So he was quite pleased and indeed thanked our tour guide then and there by itself. Apart from that, the cosy bed of our bedroom was decorated with flowers, as we had booked exclusively honeymoon packages.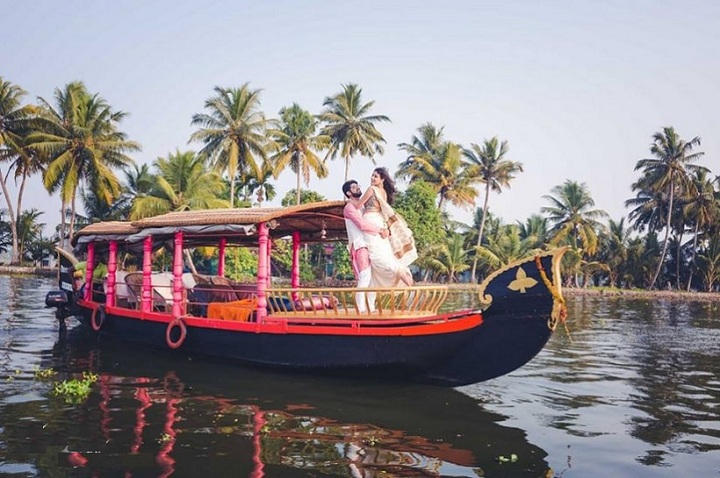 After taking some rest at our room, we stepped out and headed to a lonely island, called Pathiramanal situated at the middle of the vast and panoramic Vembanad Lake. For the very purpose, we had the cover yet another lengthy Thaneermukkom Bund. The sight that we got to behold from that bund was simply alluring. It was very surprising to realize that there was the expansive Arabian Sea after the massive stretch of lake. Within a delightful journey of barely 40 minutes, we reached a boat jetty from where we had to sail up to the island. We rented a paddleboat to this inhabited island, which is the resting place for hundreds of migratory birds. Once reaching there, we felt that we were in some other exotic place away from the bustles of everyday lives. Moreover, the time that we choose for this wonderful ferrying was truly mesmerizing, as it was approaching sunset. It was a sheer stunning sight to behold at the sun that was setting hurriedly. And without getting much darker, we returned to our resort.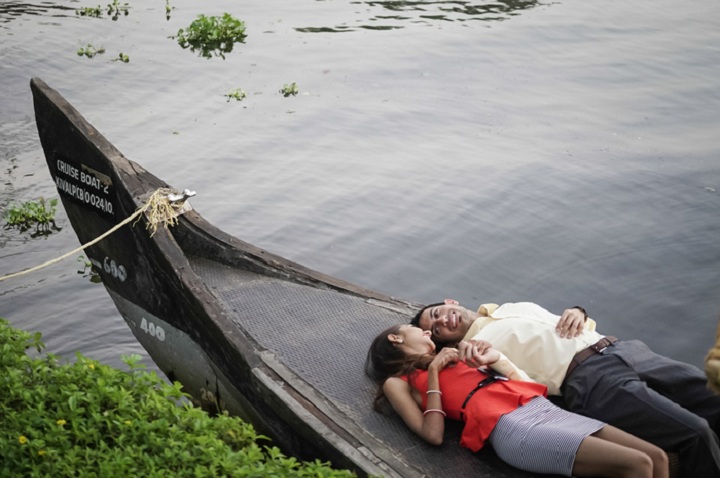 The very next day was the most awaited one of our entire honeymoon trip to this part of Kerala. We were very much excited about spending a night in a houseboat that would cruise along the serene backwaters for the whole of 20 hours! So we packed our bags and checked out our resort. We reached a bank of the lake at Kumarakom that was set almost like boat jetty. We were to travel up to Alleppey in this exquisite houseboat hired for us. The exhilarating sail across the lake was fabulous. When it was a late-night, we could stare at the flickering lights from different parts of land surrounding the massive backwaters. That was very romantic. For a moment, I thought that my husband had specially booked this specific one among all the other tour packages for this sole reason. Furthermore, we were the only guests that day apart from the helmsman and a single staff. To be frank, availing such a beautiful experience from one of the cheapest tour packages available was indeed surprising.
Such a memorable holidaying-cum-honeymooning in the state of Kerala, especially in an exotic place like that of Alleppey was only possible by the specialized assistance of Dream Holidays. They had the best travel deals for visiting Kerala with such diverse tour packages at lowest prices, especially for honeymoon covering various other locations of Munnar, Thekkady, Wayanad and Kovalam.