Family is an unavoidable part of our life. The basic manners and culture that a man earns in his or her life, learn first from family. There are many ways to make the bonding between family members stronger and thicker. Above all the different methods it is the leisure tours to the unexplored destinations that make the relationship healthy. Revisiting the same place again at least for some people may be boring but if you are with your best friends or with your dear ones those places seem to be more interesting. There are many places in the world that act as a perfect destination for families as well as for friends to rejuvenate and relax. Among the several places, the region encapsulated with boundless beauty of serene nature and wonderful resources will definitely soothe your hearts and offer memorable experiences. When speaking of virgin beauty and charming surroundings the first image that runs into your minds will of the southernmost state of India called Kerala. The calm ambience and emerald surroundings embodied with infinite resources of nature will truly touch your hearts. There would be no one in the world that hasn't travelled by train, car or bus. But has anyone ever heard of sailing in a boat encompassed with all kinds of modern amenities? Such boats are commonly known as houseboats in Kerala. In fact, the houseboat is the personification of the numerous characteristics that make Kerala so unique.
 Explore the virgin beauty of Kainakari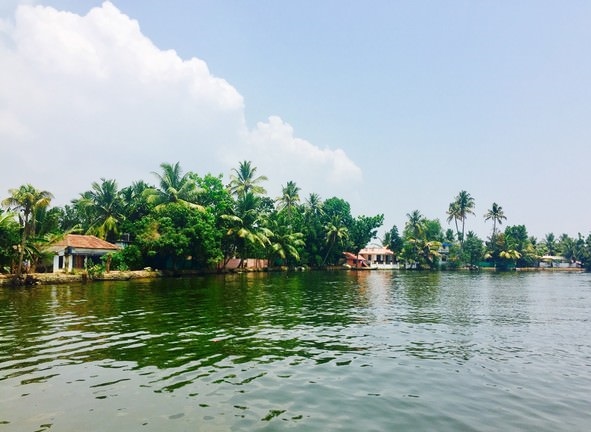 Kainakari belongs to the lower parts of Kuttanad is situated in the Alleppey district in Kerala. The tiny village is known or its untouched spectacular beauty. The population of the village is less that each person knows who is residing in their nearby localities. The astounding beauty of the village not only grabs the travellers from various parts of the world but also many filmmakers and ad makers choose Kainakari for their works. What makes Kainakari so special is it is devoid of vehicles and hustle and bustle of city life. It is surrounded by lakes, rivers and other water bodies on the four sides. The immense solitude and peaceful environment that Kainakari provides, propels every nature lovers to buy tour packages for their family and friends. The best and effective way to explore the magnificent beauty of the unexplored village is by sailing in the country boats or houseboats. Houseboat rides are available at cheap rates.
For a person residing in metropolitan cities and towns, their dream might be to purchase a luxurious car or an expensive motorbike but for typical Kainakari resident, his dream would be to buy a houseboat or at least a boat. Sailing in a traditional houseboat will bring you closer to nature and its various wonders. According to the packages, the duration of exploring the region might vary but trust me once you enjoy the houseboat tour you will be tempted to sail in it again.
Story behind Kainakari
In olden days the village was administered by landlords and some renowned farmers. Those times the land was always busy in harvesting different types of cereals and grains. The surroundings were also painted in lush green colour and the whole villagers would spend their precious time in agricultural activities to earn good results. Later when the landlord system and the charge of the lands were handed over to a person called 'Kanakan'. Gradually the land came to be known as 'Kanante Kari' or 'Kainakari' which means 'land of Kannan' in colloquial language. While some others say that the region was once inhabited by the Pandavas during their exile period. They destroyed the richly populated forest and fauna. So, when digging the earth one could find ashes or 'kari' and hence the people named the village as 'Kainakari'.
Some fascinating features of Kainakari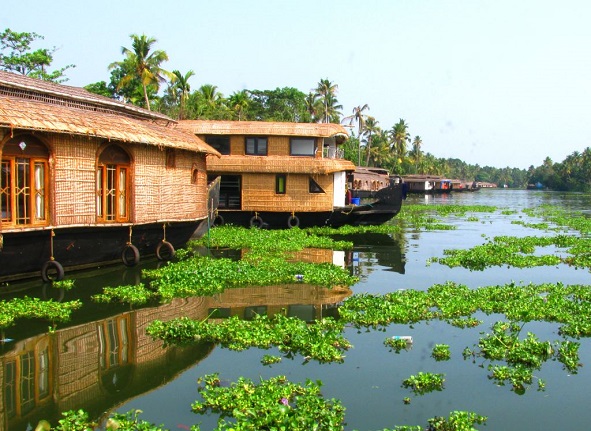 Kainakari is not only known for its outstanding beauty but also it is renowned to be known as the birthplace of Saint Chavara Kuriakose, who worked hard to provide education and establish schools for children irrespective of caste and creed. To learn more about the saint and his life you will have to travel Chavara jetty. Over there you could see a 200-year-old dwelling surrounded with thick green paddy fields and serene nature. The building is known to be a perfect instance of ancient Kerala architecture and paintings. When exploring the monument you would come across a room called 'aripathayam' which is dedicated for storing paddy grains and rice indicate show much importance was given to agricultural sector in olden days.  After the exploration, you can continue your houseboat voyage. Along with enjoying the surreal beauty of the emerald surroundings, you can also satiate your hunger with the lip-smacking dishes such as duck curry and also plates of seafood like pearl spot roasted, dry fish fried and powdered and so on prepared in traditional Kerala style. To quench your thirst drink the tender coconut water. If you are lucky enough, you can have some sorts of toddy also. If you are good in angling with the help of houseboat authorities you can catch the best fish from the particular area directed by them. If you want to add some cherishing experience into your travelogue, you can sail beyond Kainakari and enchant the beauty of R-block where the river Pamba and Vembanadu Lake merges and flows. There are many more fascinating features that are still hidden in Kainakari. To learn more about it grab the tour packages for your family at the cheapest rates from well-renowned travel operators in Kerala such as Gogeo Holidays.
Gogeo Holidays are the one who drafts the packages by incorporating the best tourist destinations in the itinerary for travellers from Chennai, Mumbai and Bangalore. To make your journey into a remarkable one contact their customer executives at any time. Also, you can drop a message into their mailbox or WhatsApp. When packing your bags to Kainakari do not forget to carry a high-resolution camera and binoculars to catch the best images first. For more details just go through their reviews and feedback on their official website.